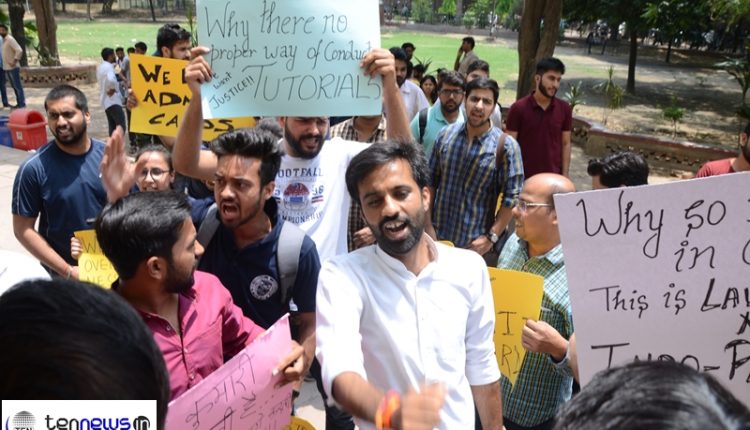 ABVP Stages Protest at Delhi University over Detention, Demands Admit Cards! 
PRERIT CHAUHAN (PHOTO/VIDEO BY SAURABH SHRIVASTAVA)
New Delhi: Delhi University students on Wednesday staged a protest outside the office of the Law Faculty dean against the detention list that was released some days back. The list has names of approximately 457 students who did not have 70% attendance that Bar Council of lndia (BCl) asks for, students were detained from all the centres in this semester and students will not be allowed to give exams further.
The protesting students, who were joined by Members of the Akhil Bharatiya Vidyarthi Parishad (ABVP), said, "There were discrepancies in the detention list. We want ask the the Faculty why they didn't put the attendance till April on notice board. Why faculty of Law is not permitting medical certificates as a relaxation in attendance."

"During the permanent appointment of teachers in January, classes were not taken. We just want to ask that how have they managed to calculate the final attendance? Our demand to the faculty and our Dean, Prof. Ved Kumar is that Admit cards should be given to students via undertaking. Students must be given permission to write their examination (May 2018). Detention must not be allowed and practice must be abolished as student's future are in danger", they added.
[2:38 PM, 5/9/2018] Kediya: Aviation Ministry officials review progress of Jewar Airport, construction tender to be floated by June
An important meeting took place at the Civil Aviation Ministry on Tuesday evening regarding Jewar International Airport.
During the high profile meeting the issue of determining the tender process and conditions for the construction of the airport were also discussed. On behalf of the aviation ministry, the nodal agency for construction of Jewar Airport i.e. Yamuna Authority has been asked to take suggestions from field experts and construction companies before preparing the documents of the tender. The step has been suggested so that more and more companies can participate for applying tender.
After receiving the theoretical permission for Jewar International Airport, different processes for its construction are going on at a rapid pace.
PWC (Price Water House Coopers) which has already submitted TEFR report, is also preparing the tender document. By June, there is a plan to release global tender for the construction of the airport. The target of finalizing a company for the same has been fixed for September-October so that the airport's foundation stone could be laid down in October.
During the meeting the progress of land acquisition and preparation of tender documents was also overviewd by the aviation ministry.
Yamuna Authority CEO Dr. Arun veer Singh also remained present during the meeting.
As per sources the tender document and regulations are being formulated in such a way that maximum number of global giants can take part in bidding process and the best among them can be selected for the construction of Greenfield Airport at Jewar.