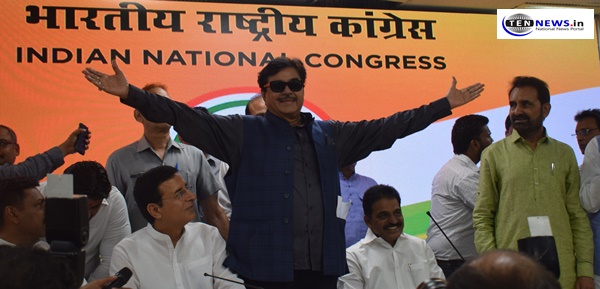 Actor-politician Shatrughan Sinha joins Congress Ahead of Lok Sabha Election 2019
PRERIT CHAUHAN/ JITENDER PAL- TEN NEWS
New Delhi :(06/04/2019)Actor-politician Shatrughan Sinha joined the Congress Party on Saturday in the presence of its senior leaders at the party headquarters. Shatrughan Sinha giving a detailed account of 4-5 years of suppression of truth in BJP camp, one after the other senior leaders disrespected. He said there is no minister, only PMO. None of the Minister is able to take smallest decision on their own.
Addressing the Media, BJP Rebel Leader Singh said,
"I have always spoken for the wellbeing of our youth and farmers. When I opposed Demonetisation, I was called a rebel. If speaking the truth is rebellion, then yes, I'm a rebel. In the one-man show, two-man army, everything happens from Prime Minister's Office.the ministers can't work freely anyway."
"The BJP has kicked out all the good people with humble intentions," the actor-turned-politician said, naming L K Advani, Murli Manohar Joshi and Arun Shourie. Everyone is scared of Modiji in the party. Even the MPs are scared of the Prime Minister. There was no development in secularism or in the actions of the saffron party," he said.
The actor-turned-politician, when asked about his past comment lauding Prime Minister Narendra Modi, said, "I used to call him dashing and dynamic for his 56-inch chest. Today, Rahul Gandhi is the face of the nation and future of the nation."
Sinha on being asked if his wife Poonam will contest from Lucknow against HM Rajnath Singh, he said "Kuch bhi ho sakta hai".