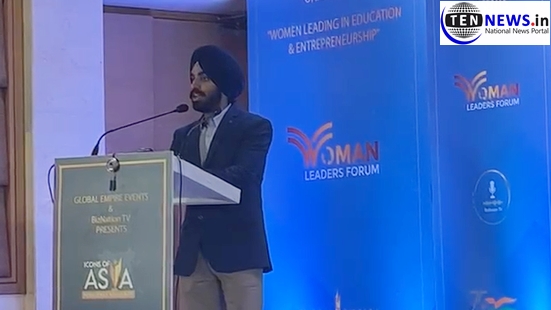 Adv Udaiveer Singh Bindra highlights India's emergence as a superpower at the Icons of Asia & Woman Leaders Forum
Ten News Network
New Delhi (India), April 2, 2023: The Icons of Asia and Woman Leaders event, held on April 1 at the elegant Radisson Blu hotel in New Delhi, India, was an extraordinary success. The event, organised by Global Empire Events, was graced by illustrious personalities hailing from diverse fields, who shared their profound insights and erudition on a wide range of subjects.

Adv. Udaiveer Singh Bindra, who serves as the Managing Director of Global Empire Events & Biz Nation, in his eloquent address, expounded upon the remarkable progress that India has made in recent years, owing to the sustained efforts of the government and its citizenry. He graciously acknowledged the indomitable leadership of Prime Minister Narendra Modi, whose visionary policies have elevated India's stature as a new emerging superpower on the global stage.
Singh also waxed eloquently on the critical importance of digital marketing in the contemporary world. He extolled the virtues of brand building and exhorted businesses to create a robust online presence, which he believes is crucial to succeeding in the current era. He remarked that his company's noble mission is to provide an efficacious platform where enterprising individuals can converge and effectively promote their businesses to a wider audience.
Singh's vision for his enterprise is founded on the noble ideals of Vasudhaiva Kutumbakam, which symbolizes the world as one family. He believes that every individual has a chance to prosper through the boundless opportunities offered by digital marketing. He further emphasized that by working in tandem and pooling resources, we can collectively build a brighter and more promising future for ourselves and the world at large.
During his speech, Singh also expounded upon the numerous initiatives launched by the Indian government to promote entrepreneurship, such as the Make in India and Startup India schemes. He underscored the fact that these initiatives have catalyzed the growth of a thriving startup ecosystem in the country, as is evidenced by the recognition accorded to over 80,000 startups under the aegis of the Startup India scheme.
The Icons of Asia and Woman Leaders event was a momentous occasion, as it provided a formidable platform for distinguished personalities from diverse backgrounds to exchange ideas, share knowledge, and connect with each other. It was a celebration of India's spectacular progress in recent years and a call to action, urging everyone to strive for excellence and create a better tomorrow.
Global Empire Events & BizNation TV | Icons of Asia & Woman Leaders Awards | Photo highlights Part 1
Global Empire Events & BizNation TV | Icons of Asia & Woman Leaders Awards | Photo highlights Part 2
Global Empire Events & BizNation TV | Icons of Asia & Woman Leaders Awards | Photo highlights Part 3
Global Empire Events & BizNation TV | Icons of Asia & Woman Leaders Awards | Photo highlights Part 4
Global Empire Events & BizNation TV | Icons of Asia & Woman Leaders Awards | Photo highlights Part 5
Global Empire Events & BizNation TV | Icons of Asia & Woman Leaders Awards | Photo highlights Part 6
Global Empire Events & BizNation TV | Icons of Asia & Woman Leaders Awards | Video highlights