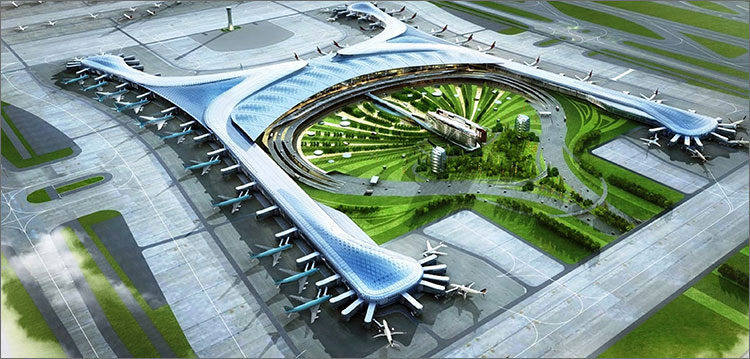 Aerotropolis to be developed around the Noida International Airport by Yamuna Authority
Saurabh Kumar
Greater Noida (10-09-2019) : Yamuna Expressway Industrial Development Authority (YEIDA) is working on to develop a fully integrated city around the upcoming Noida International Airport. This city will be developed on 5,000 hectares of land and will be based on the concept of an Aerotropolis.
For this purpose, YEIDA has hired consultant Ernst & Young (E&Y) to study the best practices at top international airports and prepare a feasibility report by the end of September. "Right now the plan is at an initial stage where we are getting the feasibility report prepared by E&Y. It is expected by the end of this month," Arun Vir Singh ,CEO, YEIDA.
An aerotropolis is a metropolitan sub-region whose, infrastructure, land use, and economy are centred on an airport. The aerotropolis consists of the airport's aeronautical, logistics, and commercial infrastructure forming a multimodal, multifunctional airport city at its core. The term was repurposed by air commerce researcher John D. Kasarda in 2000 based on his prior research on airport-driven economic development.[
In Jewar airport's case, YEIDA is planning to develop parks, universities, vocational institutes, malls, convention centres, golf course, warehouse godowns and wholesale markets, among others, in the region. A planetarium and a national memorial are also in the pipeline.
According to YEIDA CEO Arun Vir Singh, apart from the 5,000 hectares earmarked in the first phase, an additional 1,500 hectares will also be developed around the airport. The remaining phases will be as per air traffic and other requirements.