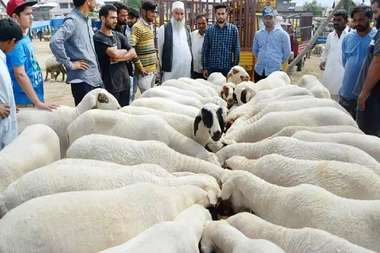 New Delhi: People for the Ethical Treatment of Animals (PETA) India has sent a fresh letter to the chief secretaries, the directors general of police, and the directors of animal husbandry departments of state governments and union territories across India, as well as the commissioners of municipal corporations of metropolitan cities, requesting that they take all possible precautionary measures to stop any illegal transport and killing of animals in the lead-up to Bakrid, as was also advised by the Animal Welfare Board of India in its 15 July 2019 circular.
"All religions call for compassion, no religion requires killing or eating animals, and hacking animals to death with weapons is just plain cruel," said PETA India CEO and veterinarian Dr Manilal Valliyate.
"The state governments have a duty to uphold and enforce India's animal-protection laws, and PETA India is calling on the authorities to prohibit the cutting of animals' throats by untrained people in the street," Dr Manilal said.
In its letter, PETA India pointed out that – through orders dated 17 February 2017 and 10 April 2017 on two matters regarding the sacrifice and killing of animals for meat, the Supreme Court ruled that animals can be slaughtered only in officially licensed slaughterhouses and that municipal authorities must ensure compliance with this ruling.
The Prevention of Cruelty to Animals (Slaughter House) Rules, 2001, and the Food Safety and Standards (Licensing and Registration of Food Businesses) Regulations, 2011, permit the slaughter of animals for food only in registered or licensed slaughterhouses equipped with species-specific stunning equipment. The Food Safety and Standards (Food Products Standards and Food Additives) Regulations, 2011, also prohibit killing camels for meat, a prevalent practice during Bakrid. And the Transport of Animals Rules, 1978, are also frequently violated during this festival.