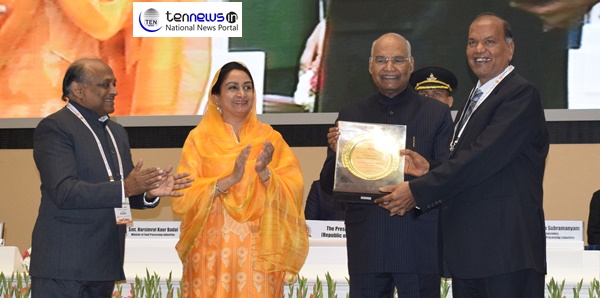 AIFPA completes 75 years in Food Industry, President of India inaugurates the session
New Delhi, : (20/12/19) All India Food Processors' Association (AIFPA) Est. in 1943, comprising Food Processors' Operators along with Machinery, Manufacturer, Packing Material, Logistic, Suppliers and other related stake-holders, completed its 75 years of its dedicated services to Food Processing Industry and organized two day Platinum Jubilee Conference today at Vigyan Bhawan, New Delhi.
AIFPA's celebration is bringing together thousands of Food Processors' and stake-holders around the country, under the theme of "FOOD SUSTAINS LIFE, PROCESSING SUSTAINS FOOD" and focusing on the opportunity to develop Value Chain Alliances.
The Platinum Jubilee Conference was inaugurated by Dr. Ram Nath Kovind, Honorable President of India and was further graced with the presence of the Union Minister for Food Processing Industries, Govt. of India, Harsimrat Kaur Badal and other dignitaries.
President of India, Dr. Ram Nath Kovind, while adressing the session praised the efforts of AIFPA since its beginning back in 1943, and said,
"This association is the apex body dedicated to the growth and development of Food Industry in the country. In 1943, when the association was formed, India was not yet independent. Those were turbulent times of war and food shortages. The horrific Bengal famine happened back then in those times. In such circumstances, the founders of the association recognised the need for the scientific management of the agro food sector. They understood the importance of modern food processing industry to protect the needs for both farmers and consumers and to promote agricultural productivity. Over the years, the association has worked hard to achieve its goals. It has brought large and small food processing units on a common platform. It has synergized the efforts of all stake holders to establish integrated food chains and contributed to national welfare. These are commendable achievements."
Speaking on the occasion, Dr. Subodh Jindal, President All India Food Processors' Association (AIFPA) said,
"AIFPA dedicates itself to boost food processing in the country by promoting efficient technologies, innovation, new product development, entrepreneurship, rationalization of laws and taxes with a mission to improve the farm economy, save wastage of perishable materials, fully utilize and add value to our natural produce. Providing nourished food to consumers, gave India a leading role in the global market and ultimately strengthen the farmer, empower women and generate employment."
The Conference was attended by Pan India Delegates, from the Central and State Government Bodies, Food Business Operators, Institutes of Excellence in Food Technology, R & D Institutions, Importers and Exporters of Fresh and Processed Food Products and the Food Processing Industries.
AIFPA on this historic occasion of its Platinum Jubilee Conference, vows its solemn commitment to help the Food Processing Industry in every aspect possible.
Enabling it to prevent wastage and process enough to meet the demand of over 1.5 billion countrymen by 2050 and export the surplus to countries deficient in food.