Ajay Shankar Memorial Awards handed out at the 46th edition of IHGF-Delhi Fair Autumn 2018.
ROHIT SHARMA / VISHAL MALHOTRA
Greater Noida :– Anup Chandra Pandey, IAS, Chief Secretary of the Govt. of Uttar Pradesh gave away the prestigious Ajay Shankar Memorial Awards for the best design and display stands today at the 46th edition of IHGF-Delhi Fair Autumn 2018.
Narendra Bhooshan, CEO, GNIDA, Arun Veer Singh, CEO, YEIDA, B.N. Singh, District Magistrate, Ajay Pal, SSP, Gautam Budha Nagar, Dhanalakshmi K, Addl. Resident Commissioner, UP, O.P. Prahladka, Chairman – EPCH, Jesmina Zeliang, President of the Fair, Mohan Singh Bhati, Vice, Vice President of the Fair, Ahmed Akberali Sundrani, Vice President of the fair, R.K. Passi and Sagar Mehta, Vice Chairmen and other prominent members of Committee of Administration were also present during the award ceremony.
While welcoming the Chief Guest, Rakesh Kumar, ED – EPCH said that Uttar Pradesh contributes to the tune of 45% in the total exports of handicrafts from the country which is more than Rs. 10,000 crores, other than hand knotted carpets. Rakesh Kumar stressed that the State Government should emphasize on setting up of more common facility centres which are a requirement of the artisans and exporters.  He also mentioned that the State of Uttar Pradesh is the only state in the country which has state level Export Promotion Council and announced its ambitious One District One Product project.  Rakesh Kumar said that EPCH is seriously considering for setting up of Handicraft Park at Yamuna Expressway in 200 acres of area for which State Government has been requested to provide subsidy on the land.  The park would be another ambitious project of EPCH after Expo Mart and will bring investment of more than Rs. 5000 crores in this region and help the people from small and cottage sectors.
Chief Secretary Anup Chandra Pandey informed that ODOP[one District one Product] is focusing on development of handicrafts from State of Uttar Pradesh and will strengthen the craftspersons and exporters in the state. Speaking on the occasion, Anup Chandra, Chief Secretary of Uttar Pradesh said that the State of Uttar Pradesh has a rich legacy of handicrafts, which are produced from different raw materials in various craft clusters located all across the State. The State engages over 1.5 million craftsperson's in different crafts.  The exports of handicrafts from the state is Rs 10225.10  crores which is around 44.40%  of total exports of handicrafts from the country (Rs. 23,029 crores) during the year 2017-18.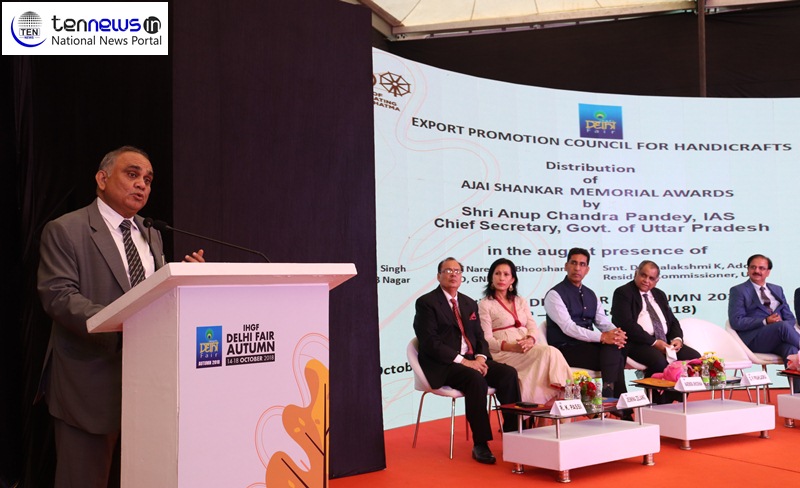 The Chief Secretary appreciated EPCH for setting up various infrastructure projects in the State of UP for promotion and development of handicrafts such as  common Facility Center, National Centre for Photo and Picture Framing Technology, Technology Upgradation Center at Saharanpur, Resource Center at Moradabad and above all State-of-the-art Exposition Centre i.e. India Expo Centre and Mart at Greater Noida.
Ajay Shankar Memorial Awards for the Best design & Display Stand in the category of  Houseware, Table, Kitchen and Hotelwere, Fashion Jewellery & Accessories, Furniture, Furniture Hardware & Home accessories, Home Textiles, Furnishing & Floor coverings, Lamp Lighting & Accessories and Chritasmas decorative and festive decor were distributed.   In each category Gold, Silver and Bronze trophies were given.
Speaking to Ten News, Anup Chandra Pandey, IAS, Chief Secretary, Govt. of Uttar Pradesh said,
"This fair is a very good platform for craftsmen and artisans of India. Talking about exports, India is really good at producing goods that can't be found any where else. UP government has planned to settle a separate city just for exposing handicrafts that are made in the villages of India and never get the exposure they deserve."
Exhibitors present in the fair praised the increment in number of clients and other exhibitors, a lot.
They shared how wonderful experience they had at IHGF-Delhi Fair Autumn 2018.
Visitors on the other side had a great experience as they came through some of the products they were never familiar with. These clients/visitors are now taking bundle of good massages to pass on in their respective countries that are about Indian handicrafts and other attractive products.