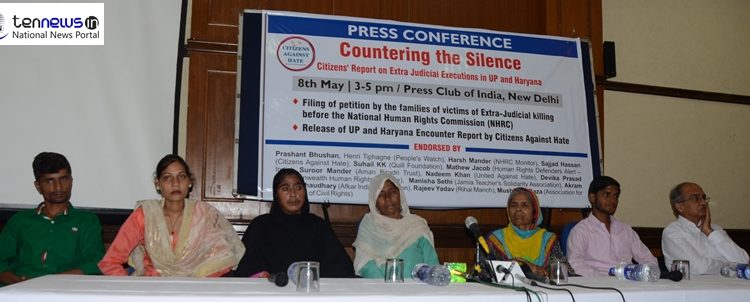 New Delhi: The families of victims of extra-judicial executions in Uttar Pradesh, represented by Advocate Prashant Bhushan and representatives from the fact finding team of Citizens Against Hate, met the NHRC Chairperson, H.L. Dattu on 7th May 2018.
The families presented a complaint of 9 cases of extra judicial killings in the state of Uttar Pradesh and filed affidavits to counter the inconsistencies in the police version of the alleged "encounters".
The complaint highlighted how the state has unleashed a wave of victimisation of innocent people under the guise of allegedly maintaining law and order and that 50 cases of "encounter" killings have taken place in UP since the Yogi Adityanath led BJP government came to power in March 2017. Also submitted was a fact finding report by civil society organisations of another 8 cases where families were not able to give their statements on affidavits.
The complaints in all these cases, requested the NHRC to take serious notice of these killings, order an immediate impartial investigation and take strict action against the concerned police officials in accordance with the Supreme Court guidelines. NHRC chairperson has taken up the matter for further consideration and investigation. Table detailing the inconsistencies in police version and family version alleging torture were also annexed.

On Tuesday, the family members along with prominent lawyer and members of civil society addressed a press conference at the Press Club of India to talk about the cases and their petition before the NHRC.
"Countering Silence" A report on 27 cases of Extra-Judicial Executions from UP and Haryana was also released by Citizens Against Hate, a collective of various individuals and groups that conducted the study.
The report is a documentation of 16 incidents of extrajudicial killing in UP and 12 cases of Mewat between 2017-18. Based on the narrations of the family and analyses of the legal documents  available.

Addressing the media, Advocate Prashant Bhushan said, "The report, takes a detailed look at the legalities involved, the investigation and the forensics, concludes that the idea of 'crime control' here is clearly an eyewash. Almost all the victims of these killings belong to vulnerable social groups muslims, dalits and bahuians, and come from low-economic households. These alleged 'encounter killings' in Uttar Pradesh are in fact pre-meditated extra-judicial executions.All the families, without fail, state that the victims were abducted by the police or entrapped through their informer networks. Bodies of all victims showed visible signs of torture along with close range bullet injuries above the waista fact that is corroborated by the postmortem reports accessed by the team."
"In all cases, FIR have been filed against the very victims, instead of the erring police officers as mandated by the supreme court. FIR accessed by the team showed an identical template of sequence of events leading to the encounter- raising questions on the credibility," added Bhushan.