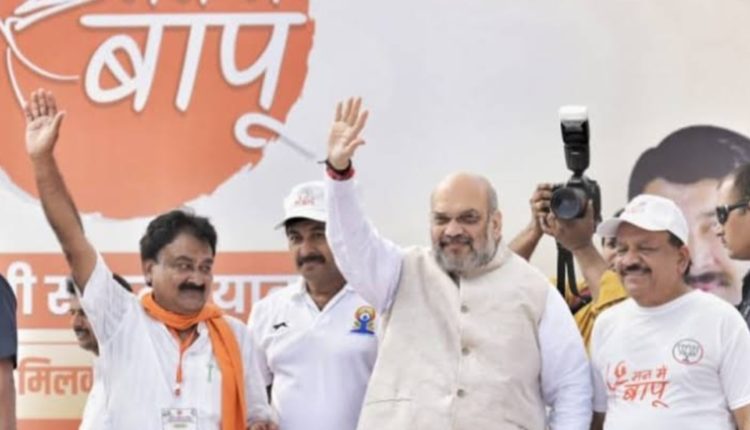 Delhi, 02/10/19: Amit Shah addressed a rally today before the start of 'Gandhi Sankalp Yatra' to celebrate Mahatma Gandhi's 150th birth anniversary.
He spoke about PM Modi's quest to uphold the values and principles of Mahatma Gandhi in the area of cleanliness.
After flagging off the nationwide 'Gandhi Sankalp Yatra', he undertook a foot march for around 500 metres. During the event Manoj Tiwari, Delhi BJP president and Union Minister Dr Harshavardhan also remaied present and addressd the gathering.
Speaking at the commencement of 'Gandhi Sankalp Yatra' on the occasion of Mahatma Gandhi's 150th birth anniversary, Amit Shah highlighted various contributions of Mahatma Gandhi like 'non-violence' and 'Satyagraha' and spoke about the inception of a clean and open defecation free India.
Shah stated that the PM maintained the principles of Mahatma Gandhi and became the first Prime Minister to start a mass movement for cleanliness. Amit Shah, in his address, also urged all the activists in India to make the 150th year of Gandhi's birth as a year of resolve.
Further talking about Gandhian principles of developing a clean India, Amit Shah said, "Narendra Modi Ji, while he was the Chief Minister of Gujarat and while he is the Prime Minister of India, has always upheld the significance of Gandhian principles. Gandhi Ji was always in the lead when it came to cleanliness. There would have been hardly any Prime Ministers in the past who made cleanliness a mass movement. But our Prime Minister Narendra Modi turned the cause of cleanliness into a mass movement."