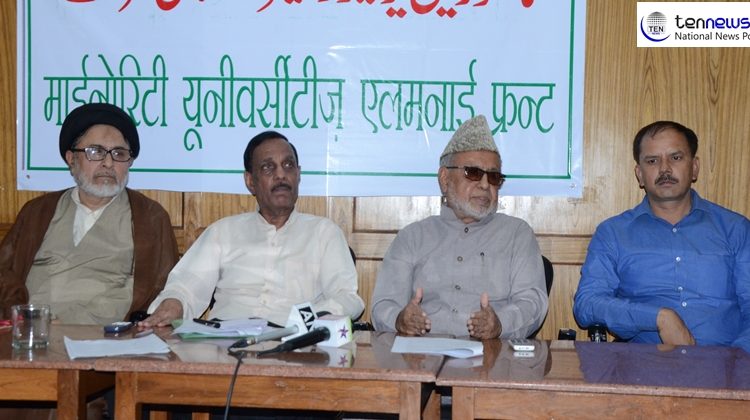 New Delhi: Jolted with the recent disturbing and provoking incidents in Jamia Millia Islamia (JMI) and Aligarh Muslim University (AMU), Minority University Alumina Front came forward and demanded that Union Government should frame a law for hanging portraits, pictures and install statues in the country.
They further demanded that union government should clear his stand on history of the partition and constitute a committee who will quest the truth and frame a final draft of the partition and make an official documents.
Advocate and ex-president of AMU student's union, Irfan Ullah Khan said, "Union government should frame a law regarding hanging of portraits, installing statues because we have recently seen Mohammad Ali Jinnah portraits triggered a controversy and Lenin's statue demolished in Tripura, BR Ambedkar's statue is under threat and so on."

Moreover, government should come clear on the partition of India. How is responsible for it, weather Mohammad Ali Jinnah, Jawaharlal Nehru, British or Congress or anyone else.  It will end the dispute and it should be treated as official document", he added.
Following the event, ex-VC, Indira Gandhi National Open University and former president AMU student union, Basir Ahmad said, "The recent events of JMI and AMU are really disturbing. We are well aware that the BJP government is doing this only to get political benefits during Karnataka assembly election but these incidents are dividing country."
In addition to that, BJP wanted to end the minority status of AMU and JMI which has been proved as the government failed an affidavit in the court and challenges the minority status of the both minority institutions. "We have sensed these upcoming incidents, as government challenges minority status of both premier minority institutions in the court and AMU administration denied to hold Shakha inside the AMU campus."
Commenting over the AMU Jinnah portrait row, Basir Ahmad said, "Jinnah portrait has been hanging there since 1937. We are not the supporter of Jinnah and he was the founding member of AMU and his part is part of our history which can't be changed. Decision on Jinnah portrait will only take by AMU Student union, whether it will hand or removed."
He further said that the BJP government wants to shut the AMU. District Magistrate of Aligarh is constantly threatening university administration to shut the campus.
Later, member of the front, M Islam said, "On one hand PM Modi claimed that he wants to see Computer and the Quran in the hands of muslim students but the way government is totally acting adversely."
"BJP government is checking the patients of 25 crore minorities. Despite provocation, they are acting patiently, if they lose the patients, it will be difficult to handle the situation and the country will see another partition", he asserted.