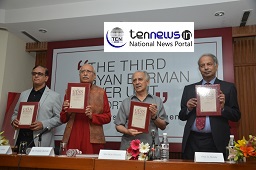 Arun Shourie launches 3rd Edition of Gyan Burman Liver Unit Report
India's leading Health and wellness  research organization Gyan Burman Liver Unit led by Industrialist and philanthropist  Mr. Pradip Burman and renowned Indian Gastrointestinal surgeon Mr. Samiran Nundy  has produced an all-encompassing Report on liver and Biliary sciences in India. Mr. Pradip Burman & Dr. Mr. Samiran Nundy have jointly presented the prestigious work in a gala event at India International centre, New Delhi on Saturday – 16th June, 2018. Former Union Minister and legendary journalist Mr. Arun Shourie graced the event as Chief Guest and inaugurated the 3rd Edition of "Gyan Burman Liver Unit Report "- an account of 15 years of achievement.
The Gyan Burman Liver Unit (GBLU) was started in 2003 to perpetuate the memory of the late Gyan Burman, who was a scion of the well-known family that owns the Dabur industry. It has started an eponymous fellowship in hepatobiliary surgery for young surgeons from various parts of the world and organizes the annual event "Gyan Burman Oration" to be delivered by one of the world's foremost liver surgeons. The Gyan Burman Orations have been delivered by Henri Bismuth from Paris, S.T. Fan from Hong Kong, Abhinav Humar from Pittsburgh, Yuman Fong from New York, Sir Roy Calne from Cambridge, Pierre Clavien from Zurich and Dirk Gouma from Amsterdam in the past.
Producing the outstanding research work,   Mr. Pradip Burman said, "We really feel proud to present our noble research report to service of the nation. The report is a detailed study on hepatobiliary diseases in India and elaborates how to promote liver transplantation in India".
Inaugurating the prestigious report Mr. Arun Shourie said the work of Gyan Burman Liver Unit is not just tremendous, it's a true KARMA. This is helping to countries medical sector as well society also. I am feeling proud to join to launch the third Edison of reports.
Gyan Burman Liver Unit has played a major role in initiating the liver transplant programme in India. It first convened a national meeting in 2003 where 50 surgeons from all over the country discussed on why India's liver transplant results at that time were poor and how we should make that better. From then, there are now 73 liver transplant centers has been established during these phase and apx 1600 transplants were done in India during 2017 only. The Ganga Ram Hospital was one of the pioneers in the field and more than 70% of the procedures being done by surgeons who have worked or have been trained in this unit.
The GBLU has trained almost 115 Indian doctors from all over India and international fellows from Kenya, Bangladesh, Nepal, Saudi Arabia, USA, Greece, Nigeria, West Indies, Myanmar, Fiji, Singapore and Pakistan and supported the publication of 52 papers and 10 books related to liver disease including 'Liver Transplantation in India' a 'Residents' Manual' and a 'Liver transplant handbook for patients'. It has helped surgical trainees attend conferences in this country and abroad including the Johns Hopkins Hospital in the USA.
Mr. Pradip Burman is the great grandson of the founder of Dabur, Dr. S.K Burman. He is currently the Chairman of Dabur Nepal Pvt Limited, a subsidiary of Dabur India Ltd and also  serves as a promoter director on the Board of Aviva Life Insurance Company Ltd.  Over the years, he was engaged in leading the companies that merged with Dabur India Ltd., such as Vidogum & Chemicals Ltd. He is also the Chairman of Sanat Products Limited and Ayurvet Limited.  The creation of this innovative programme by the Burman family's generosity has been a fitting and lasting tribute to   Mr. Gyan Burman and has influenced the lives and work of many surgeons and patients from all over the world.