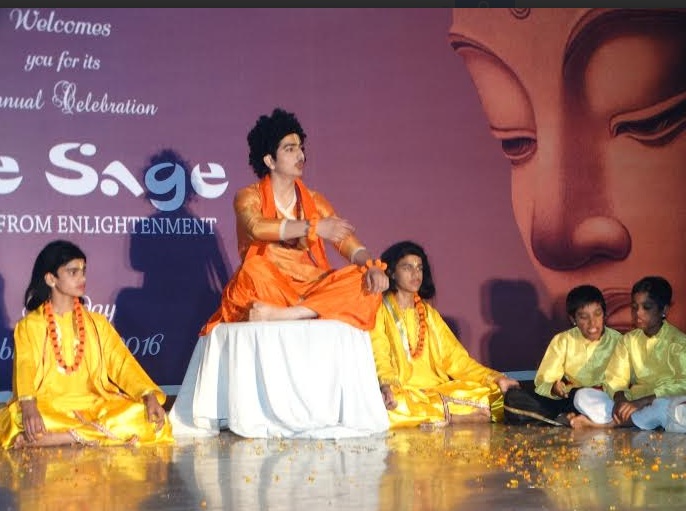 Ascent International School,celebrated its grand muchawaited Annual Event on the theme "The Sage – Not far from Enlightenment".
Ascent International School, Gr. Noida celebrated its grand muchawaited Annual Event on the theme "The Sage – Not far from Enlightenment".
The program commenced with the lighting of Lamp with the noble hands of the chief guest, Sri Kiran S, the Senior Superintendent of Police, Gautam Buddh Nagar, along with other dignitaries and school management. The program followed bySaraswati- Vandana and Ganesh Vandana presented by the senior students which really marked a beautiful and graceful beginning. The theme of the celebration was highlighted by the schoolprincipal who took the audience ona journey back time providing a heartfelt lesson through the ideals of the Buddhism based on 14 principles and 8 fold paths .in the form of various acts such as Hiranakashyap act which showed self is the greatest enemy and narcissism the greatest failure in life.
The another shuk act portrayed about the challenges encountered by human in today era and how  we can courageously overcome from it followed by Buddhi kaki act, school teacher& Buddha act which highlighted how poison turns into medicine through self-realization and transforming negative ambient intooptimism which  really stole the heart of the spectators .
A team of students also shared the scholastic and co-scholasticachievements of theschool(2015-16) through Annual report . The day became more important by  releasing the 2nd edition of Annual School Magazine ' Samanvay– a precious collaboration of  creative notions, rational and  imaginative  work of our dynamic students. .
Apart from this children from primary wing addedcolour and beauty to the function and displayed their wonderful dance before the gathering. Their dances were not only charming but also bore values in them like caring for nature. The Chief Guest appreciated and emphasized the need to organize such events with a unique theme in bringing out the students' creativity and enable them to enhance their skills and self- confidence.
The chief guest and renowned personalities were facilitated by presenting bouquet, mementos along with LED bulbs made in R&D LAB of the school (A tribute to Dr. APJ Abdul Kalam Sir) as a token of love and gratitude.
The sculptor of Ascent International School, our Principal, Mr Birendra Bansal's tireless guidance to teachers and students helped them to understand the teachings of Gautam Buddha without whose support it would not have been portrayed so magnificently and successfully.
Thus the event came to an end by vote of thanks by the school Vice Chairman, Mr. S.K. Bansal who applauded the efforts of thestudents' teachers and all the associated persons.