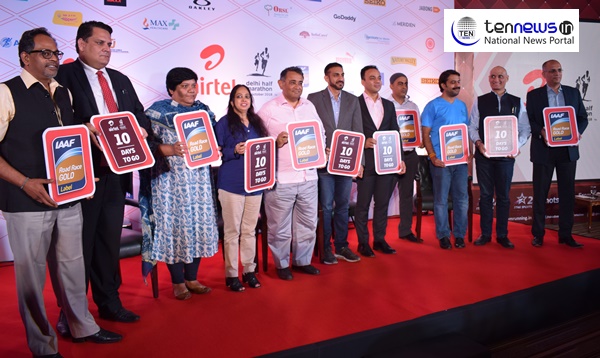 New Delhi: The countdown for the 2018 Airtel Delhi Half Marathon has begun with over 34,000 Participants including India's only Gold Label athlete Gopi T and defending champion Nitendra Singh Rawat gearing up to vie for the top honours at the world's most prestigious Half Marathon to be held on October 21, 2018.The event will witness participants running in four race categories Half Marathon (Elite &
amateur), Great Delhi Run, 10K Run, Senior Citizens and Champions with Disability.

INDIAN ELITE FIELD: The Indian contingent will put up a lierce showcase as the Asian Marathon Champion Gopi T will lead the Indian Elite Men's category alongside defending champion and course record holder Nitendra Singh Rawat. The two ran a thrilling race at the 2018 Tata Mumbai Marathon where Gopi pipped Rawat only in the last 200 metres to win the title.Avinash Sable, who stood third in 2017 Airtel Delhi Half Marathon, will also add further teeth to the competition.
Commenting on the 11th edition of the event and the new Airtel campaign #PassTheTorch, Gautam Anand, Chief People Officer (India & South Asia), Bharti Airtel said,
"As a brand connecting millions, we are proud and excited to motivate people to come together and run for cause. As always, we are thrilled to witness the overwhelming response for the ADHM this year and are looking forward to the event day. With an aim to bring more people together through running, this year, we have also launched the #PassTheTorch campaign enabling people across the country to contribute to the cause of digital literacy in a new way."
Vivek Singh, Jt, Managing Director, Procam International said, "Today Airtel Delhi half marathon is beyond Just a sporting event. The event has touched and impacted the eountry at large on various fronts philanthropy, change in mindset towards a healthy hfestyle, a ehance for our Indian runners to shine on a global platform and an opportunity to Witness m action some of the best athletes in the world. The presence of legends like Sanya Richards-Ross and Jonty Rhodes adds that extra zing to our participants and should make this edition a memorable one."