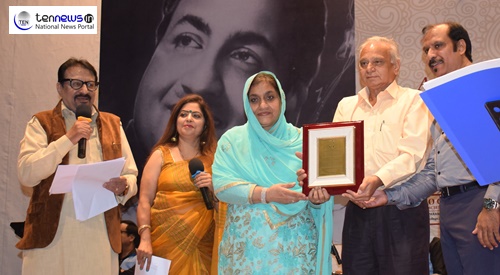 New Delhi: To give tribute to legendary singer Mohammad Rafi, Rafi Foundation Memorial Society held annual concert 'Sun Le Tu Dil Ke Sada' – The Rafi Magic held on Saturday night at Constitution Club.
Daughter of legendary singer, Yasmin and Son-in-law Mohammad Parvez were the chief guest of the night. During the event, they also shared some interesting facts and incidents of Mohammad Rafi's life with the audience the set the ambiance of show.
The 12th edition of 'Sun Le Tu Dil Ke Sada' begin with his songs 'Ye Bhagwan Ka Mandir hai' and later moved to 'Karwa Guzar Gaya' of Kavi Neeraj.
Singers and Do-Re-Mi Band enthralled the audience with soothing, soulful and live music.
Speaking on the occasion, organiser of the event and General Secretary of Rafi Foundation Zorawar Chhugani said, "Through this event, we try to revive the memories of Mohammad Rafi and his songs to his fans. This is the 12th edition of the event and we will continue the legacy of Rafi Sahab till our last breath."
Anchor Karunesh Sharma and Seema Verma kept audience in good humor the show with their witty jokes.