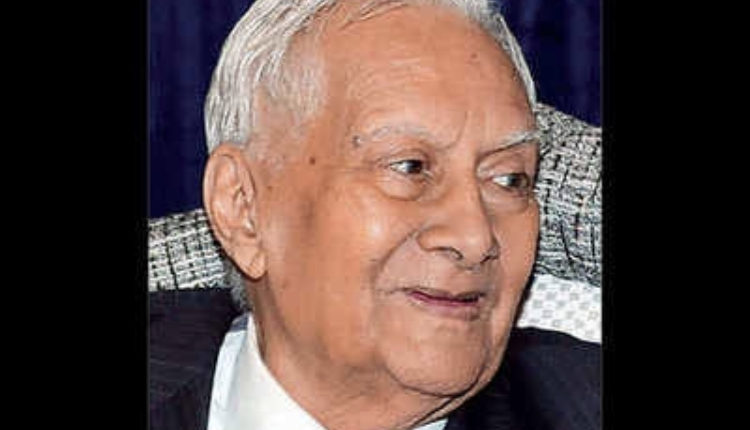 Babuji, B K Birla, a frugal genius and a benevolent optimist, leaves the world poorer in his death
Babuji, B K Birla, a frugal genius and a benevolent optimist, leaves the world poorer in his death
By
Birla group patriarch, Basant Kumar (BK) Birla, a doyen of the Indian industry, breathed his last in Mumbai on Wednesday July 3,2019 following age-related ailments at 98.
His early life
The youngest son of philanthropist Ghanshyam Das Birla, he was born on January 12, 1921. Having developed business acumen at a very early stage of his career, he played an instrumental role in kickstarting a raft of business initiatives, benefitting millions in the most humane way.
The Birla patriarch also known as ' Babuji' among his circle of friends and peers, headed the Krishnarpan Charity Trust besides being a patron to more than 25 educational trusts and institutes, including the famed engineering university— BITS Pilani, Rajasthan.
A benevolent humanist
Ahead of his times, he not only authored his succession plan, but also made it public. Babuji also created a platform for his grandson and the Aditya Birla group chairman Kumar Mangalam to take over the mantle of his companies – Century Textiles and Century Enka.
"I believed in hard work and rigorous application and picked up the workings of each department by actually attending to every nitty-gritty detail," Babuji once said while sharing his thoughts in an interaction with a leading media house.
A student of the 'parta' (operating margins) system, he was fastidious in keeping track of cash flow, a key metric the Birlas religiously followed to track the health of the businesses they run.
Values, a key to success : some reflections
Until a few years ago, Babuji was known to keep regular work hours from 9 in the morning to about 4 in the afternoon when he was in Kolkata, and toured his factories once every month.
He, during his prime, had friends in the corridors of power, as per popular view held, that he never used those relationships to his benefit or to seek any favours from any one for private benefits or gains.
In one of his thoughtful moods, Babuji once recounted one of his interactions with Dhirubhai Ambani, founder of Reliance Industries, that he would often rib him for the "laboratory scale" of Century Enka.
"We (Dhirubhai and him) were together for more than two-and-a-half hours, exchanging notes on old times and talking of just about everything under the sun," Babuji fondly reminisced once. Ambani reminded him about a suggestion, he had made years ago on the expansion of Century Enka's capacity, something he had not agreed then.
Ahead of his times
But many believe Babuji was ahead of his time as he would quote his father GD Birla, who taught the family a cardinal principle.
"Those who can't keep track of expenses and taxes should not hope to survive,".
Babuji was known to be frugal in his habits, telling people close to him: "I don't need a suit costing INR 50,000. I will instead use it for charity."
A persona par excellence
His first formal education was at Hare School and later at Presidency College. Babuji was deeply fond of art, culture, music and dance and learnt violin from Pandit Onkarnath Thakur's brother Rameshchandra Thakur. He was deeply into vocal music – and an avid listener, a film buff, philatelist and numismatist.
Babuji was also a disciplinarian and a stickler to time. As a believer in hard work , he started earning at the age of 13 following family's cardinal principles that children in the family shouldn't depend on the elders for pocket-money.
Humility, his constant companion
And that was in 1934, two years later, he entered the family business on March 18, 1936, beginning his first formal training at Birla Jute and Kesoram Mills under the watchful eyes of the legendary GD Birla at the essential shop-floor level, Babuji learnt the rudiments of technology including even operating the machines, keeping accounts, and maintaining cash books and ledgers. He was hands on and practical to the wire when it came to learning lessons of life.
Business built on principles
His primary focus was towards the industries such as cotton, viscose, polyester and nylon yarns, refractory, paper, shipping, tyrecord, transparent paper, spun pipe, cement, tea, coffee, cardamom, chemicals, plywood and MDF Board.
The BK Birla group currently has more than 25 companies – some listed, some closely-held – with a combined turnover of more than INR 15,000 crore (USD 3 billion).
Babuji lived a principled life that demonstrated the Gandhian values of ' simple living and high thinking'- a lesson that we all can learn from what he personified in him as an apostle of human ingenuity.
His life, his message
He will surely be missed by us all and by our successive generations as values he lived by yesterday will be more relevant tomorrow.
Babuji's life itself was his message and would continue to further strengthen values of hard work, humility, integrity, sense of belonging to ones roots and approach to giving back to society in the youth, young and the old alike in shaping a more sustainable and inclusive society, going forward.