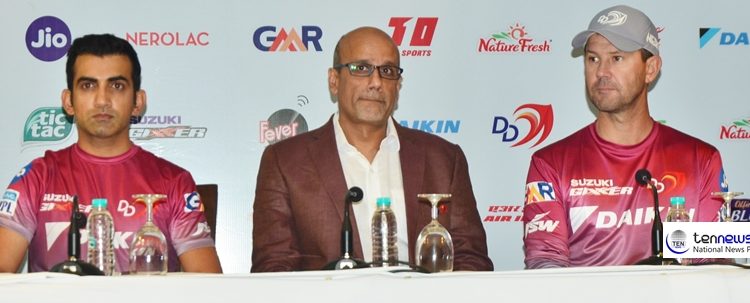 Ball Tampering Row: Ricky Ponting Defends Australian Cricket Team culture!
PRERIT CHAUHAN (PHOTO/VIDEO BY SAURABH SHRIVASTAVA)
New Delhi: With 2 days to go for the biggest T20 carnival in the world, it is the Delhi Daredevils who seem to be strong title contenders this year. Over the years, the team management has adopted different strategies at the auction table, none of which have really worked well for the team. This year, they look well balanced on paper and could post a serious challenge for the title.
Earlier, Former Indian opener and Delhi Daredevils' captain Gautam Gambhir lashed out at former Pakistani skipper who once again raked up the Kashmir issue with his latest comments on Twitter.
On Thursday, Delhi Daredevils Ceo Hemant Dua, DD Head Coach Ricky Ponting and DD captain Gautam Gambhir Addressed Media in Capital.Gautam Gambhir Revisited Hometown Memories Ahead of his Delhi Comeback.
Addressing the Media Delhi Daredevils Captain Gautam Gambhir Said, "Lot of people can say a lot of things but I had unfinished business with Delhi. So I always thought that the kind of squad Delhi had over the past 10 years, the team deserved much more than what they achieved. So I thought that if I could help them achieve that, it will be great fun as well".
DD Head Coach Ricky Ponting Speaking about Australia Ball-Tampering Incident Said, "The cultural issue for me is really an interesting thing, Because if we wind the clock back just a couple of months, when Australia won the Ashes like they did, there was no talks about cultural problems or issues whatsoever".
"I honestly feel on this occasion the cultural stuff that's been spoken about has probably been blown out of proportion to a certain degree", added Ricky.