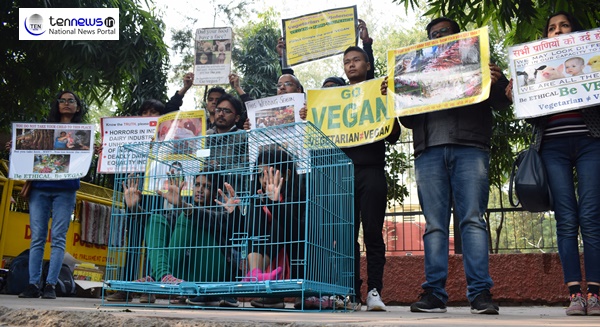 New Delhi (01/02/2019) : Today, Animal Rights Activists organised a demonstration to highlight that freedom is an undeniable right of all sentient beings regardless of their species.
The activists wanted to make people aware about the need to go vegan and were open to questions by everyone regarding how to do that.
Two Activists locked themselves in a cage at Jantar Mantar to demonstrate how animals are exploited for food, clothing, entertainment, research are denied the freedom that they long for.
Other activists stood beside the cage with placards reading messages of compassion to animals and spreading awareness about veganism. This awareness drive was done to highlight the suffering inflicted on animals by our everyday choices.
The thought-provoking demonstration aimed to encourage the public to adopt a vegan lifestyle. Veganism is basically the idea that animals exist for their own reasons and shouldn't be exploited.
Apart from not eating meat, eggs, dairy products/milk and honey, being vegan also means completely avoiding any animal-tested products or any product or service that involves use of animals.
"The endeavour is to urge people to re-think about the commodity status assigned to non-human animal persons on the arbitrary and unjust basis of species", said Bharat Gael, a volunteer speaking to Ten News.
"Most people don't approve of animal cruelty but societal conditioning disconnects us from the animal suffering stemming from our choices and leads us to view animals as mere objects or commodities." he added.