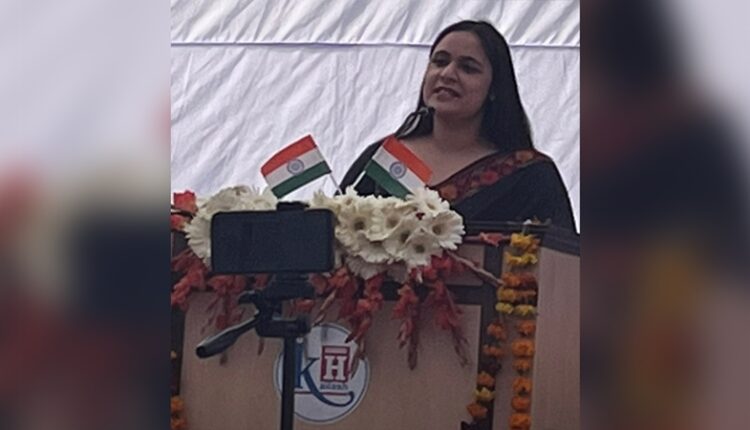 Best medical care by Kailash Group of Hospitals attracted International patients : Dr Pallavi Sharma, Director
Ten News Network
NOIDA (21/01/2023): On the occasion of the 3rd Anniversary of Kailash Hospital & Neuro Institute, Sector– 71 Noida, Director – Dr. Pallavi Sharma and Dr. Shrikant Sharma addressed the media and highlighted the important accomplishments of the Kailash Group in the last 3 years. Dr (Col) Rajesh Parashar, Medial Superintendent started the event by welcoming all media professionals and extended them New Year Greetings .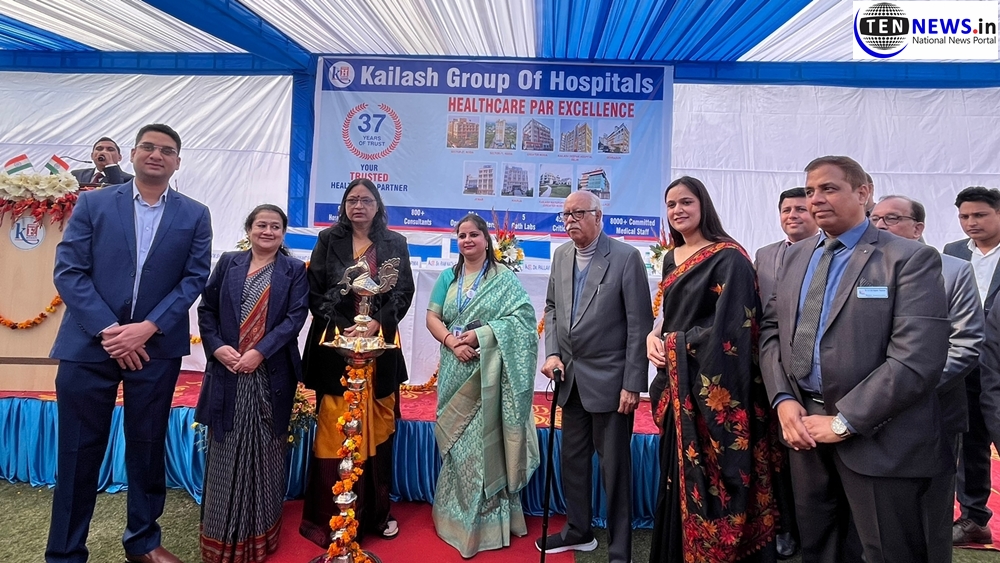 It was informed that the Kailash Group started with a humble beginning 37 years back by Founder Chairman Dr. Mahesh Sharma, M.P. , Gautambudh Nagar and Former Union Minister. Today the Group has 9 units across Delhi NCR and Uttarkhand with 2200+ Beds, 500+ Critical Care Beds, 35+ OT's, 5 Cath Labs, 800+ Specialists and Super Specialist Consultants and around 8000+ dedicated medical staff.
Dr Pallavi Sharma , Director said , "We thank the people for their faith and trust in the Institution.
In the Covid Era. The Group contributed enormously by saving thousands of lives. Around 2.5 lakh people were vaccinated against Covid. Today the Group has 7 O2 Tanks and O2 Generators to handle any emergency situation.
New Medical equipments like 128 Slice CT Scan / CT Angiography, Capsule Endoscopy and ECMO (Extracorporeal membrane oxygenation) were added in the Group.
Hisoitals. A new RT PCR Lab was established that did around 1500+ tests per day. Bio fire multiplex PCR was included for Syndromic Infectious disease testing. Protein electrophoresis machine and Immunohistochemistry markers that aid in diagnosis & treatment of Cancers were also added to the group"
She further added that with the introduction of Intervention Radiology and Intervention Neurology, Complex procedures like Brain Aneurysm Coiling, clipping, treatment for Vascular occlusions, Uterine and Bronchial Artery Embolization, Percutaneous transhepatic biliary drainage etc. could be performed with a successful outcome.
The Group's Fetal Medicine Department did advanced and complicated procedures like Intra-uterine Blood Transfusion and Intra-Uterine Fetal Reduction with successful outcomes.
On throwing light on awareness campaigns she influenced the media that Free Health Check-up Camps and Health Talks were conducted to create awareness about various health issues, KAILASH HEALTH CARD was launched which helped Patients to avail numerous benefits on various healthcare services. With the initiation of KAILASH HEALTHCARE APP, the Group made a successful initiative to make healthcare easily accessible through one click and highly user friendly.
Dr. Pallavi Sharma talking on Indian System of Medicine said that KAILASH, through Kailash Naturopathy Centre, Greater Noida and Kailash Health Village, Sector 62 Noida, was the only Healthcare entity offering HOLISTIC HEALTHCARE i.e. both Allopathy & Ayurveda to its Patients.
Kailash Home Care services which provided Medicine delivery, Home Sample collection, Physiotherapy and Medical manpower assistance at home, made healthcare accessible to those who could not reach the hospital for various reasons.Kailash Group caters to patients from Delhi NCR, Western Uttar Pradesh, Bihar, Madhya Pradesh, Rajasthan, Haryana, Punjab, Uttarakhand, Himachal Pradesh and surrounding areas. The goodwill of the group and best medical care attracted International patients as well who were successfully treated for Neuro Surgical, Orthopedic and Cardiological procedures.
She proudly announced that hospital was awarded the 1st Rank as the most Swachh Hospital under the Swachh Bharat Campaign of Noida Authority, 2nd time in a row.
Dr. Shrikant Shrama , Director, in his media briefing said that the Group is all set to welcome newer treatment modalities in the future like :-
1. 2. 3. 4. 5.
Oncology Unit with Radiotherapy & PET Scan Organ transplantation
Robotic Surgeries
Endoscopic and Endobronchoscopic Ultrasound IVF.
Chairperson of Kailash Group of Hospitals Dr. Uma Sharma thanked all media persons for their valuable support in spreading all the positive information about the healthcare services and activities of Kailash Group of Hospitals.
KAILASH HOSPITAL Sector 71 NOIDA | Third Anniversary Program | Photo Highlights