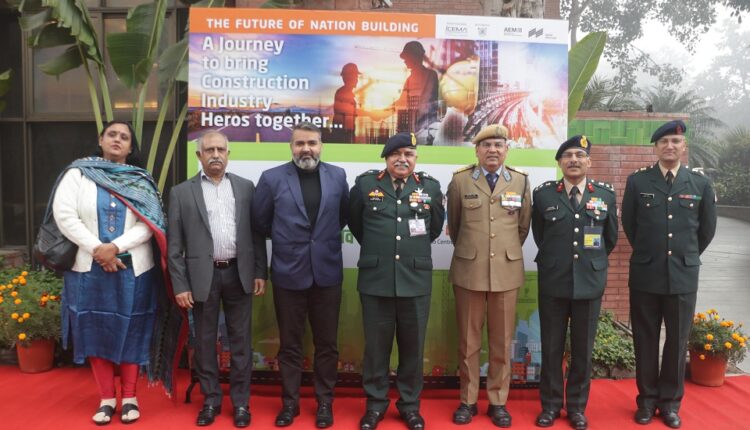 Bharat Nirman Mahotsav – A celebration on wheels

This is a road journey across leading construction hotspots in North India, culminating at bauma CONEXPO INDIA 2023 on 31 January 2023 at the India Expo Centre, Greater Noida. This journey will bring together the entire construction industry which is contributing towards the Future of Nation Building.
The Bharat Nirman Mahotsav vehicle will start from the India Habitat Centre in New Delhi on 9th January, and will cover a total of 17 cities across the six states of Rajasthan, Madhya Pradesh, Uttar Pradesh, Uttarakhand, Punjab, and Haryana. This historic journey will be flagged off by military construction veteran Lt. Gen. Rajeev Chaudhry VSM, Director General, Border Roads Organisation (BRO).
Against the backdrop of increased infra development and construction activity in the country today, the purpose of the Bharat Nirman Mahotsav is to identify the industry's heroic individuals and teams who are driving nation building across the various construction sites in North India. The Bharat Nirman Mahotsav team will recognise the efforts of people involved in the construction business such as builders, contractors, sub-contractors, equipment rental companies, etc. The team will also extend a personal invitation to bauma CONEXPO INDIA 2023.
The presence of Lt. Gen. Rajeev Chaudhry VSM, DG BRO during the flagging off ceremony is of great importance to bauma CONEXPO INDIA 2023 and the Bharat Nirman Mahotsav. Over the years, the Border Roads Organisation has successfully completed several critical infra projects of strategic national importance, and it is now engaged in improving the quality of life of people in distant frontier regions through improved road connectivity. By elaborating on the need for improved mechanization in construction technology, Lt. Gen. Rajeev Chaudhry VSM, DG BRO also recognized the efforts of bauma CONEXPO INDIA 2023 and the Bharat Nirman Mahotsav.
Speaking at the flagging off ceremony, Lt. Gen. Rajeev Chaudhry VSM, DG BRO, said, "The heavy machinery and vehicles industry is constantly innovating to improve construction outcomes like higher productivity and resource efficiency. With the vast scale of infra development in various parts of the country today, the construction industry needs to adopt the latest technology solutions for timely delivery of good quality infrastructure within budgets. Hence, I am delighted to flag off the Bharat Nirman Mahotsav that will recognise the people on the ground who are contributing towards nation building through infrastructure. I extend best wishes to the organisers of the Mahotsav and invite participation in large numbers from the respective cities and states to bauma CONEXPO INDIA 2023."
Extending gratitude towards the BRO and all other nation builders, Bhupinder Singh, CEO, bauma CONEXPO INDIA, said "Bharat Nirman Mahotsav is a celebration of all the efforts of India's infra development and building construction industry. Our trade fair bauma CONEXPO INDIA 2023 is a gathering of technology suppliers, and we want to begin with recognising the hardworking and ingenious people working in distant and challenging project sites. Hence, our vehicle will reach these people and projects, and extend a personal invitation to them to our exhibition and conference. I want to thank the BRO for providing a shining example of nation building through innovation in construction project management. We hope to start this conversation through Bharat Nirman Mahotsav and culminate the journey at the fairgrounds in Greater Noida."