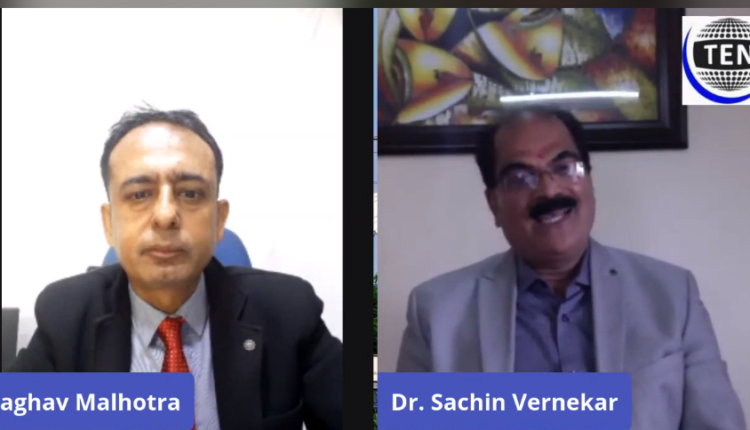 Bharti Vidyapeeth's IMED Director speaks to Ten News on quality education, online learning and more
On Monday, Raghav Malhotra hosted Dr Sachin Vernekar, Dean at Bharti Vidyapeeth and Director at Institute of Management and Entrepreneurship Development (IMED) on Ten News Live to talk about the impact of Covid-19 on admissions, exams and overall quality of education in India.
While speaking about the exams and admissions, Dr. Vernekar said that the Ministry of HRD, UGC, AICTE have issued guidelines related to admissions and exams for all universities. "UGC has directed that the end semester exams must be conducted by 30th September either through online mode or offline mode wherever possible."
"Standard operating procedures have been issued on every aspect of conducting exams – from safety of students to maintaining the sanctity of online exams."
"As per the guidelines of UGC, special exams will be conducted for those who are not able to appear for the regular exams."
Talking about the students at Bhartiya vidyapeeth, Dr. Vernekar said that we have instructed students to explore online courses at platforms such as Coursera, Swayam etc, most of which are free and will help them to upgrade their skills.
"We have conducted 62 webinars to talk about what students can do in the lockdown to shape their careers."
"We have supported the students and the parents by providing flexibility in terms of fee, and we have counselled parents on how they should take care of their children's in the times of Corona."
"We have also been organizing classes for many extra curricular activities such as music, dance and self defence for girls."
"We also regularly take feedback from our students, and try to solve whatever problems they are facing."
On improving the quality of education, Dr. Vernekar said that relevant skills must be developed in the students which are currently demanded by the industry, and the teachers should regularly teach new things and update their syllabus.
"We have been organizing an Industry Institute Partnership Summit involving the industry and academicians to find out the skill gap. We ensure that our education meets the needs of the industry."