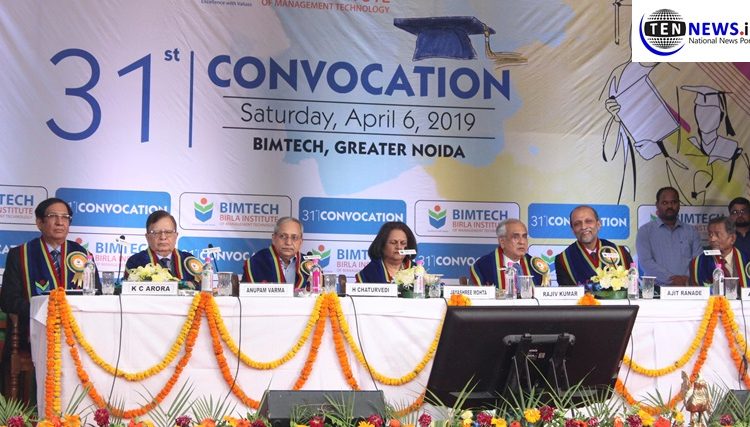 BIMTECH celebrates 31st convocation, Vice-chairman Rajiv Kumar highlights achievements of NITI Aayog, motivates students to join powerhouse of change
Saurabh Kumar / Photo & Video By Baidyanath Halder
Greater Noida (07/04/2019) : Chairperson of BIMTECH'S board of governors, Jayashree Mohta declared open the 31st convocation address and delivered the welcome address.
She termed it a landmark event for the students and called it the beginning of their corporate journey.
Soon after Dr H Chaturvedi presented a brief annual report and said that 98% students of the outgoing batch have been placed in different corporate giants.
He also outlined the CSR initiatives if the institute and said that a course in responsible management is being taught with all courses.
"We are doing consultancy and capacity building in different parts of the country apart from workshop on CSE for agricultural development workshops. We have also established a BIMTECH pushtakalaya at different jail's of Uttar Pradesh", he said.
Dr. Chaturvedi also spoke about other achievements of institute and said, "Every year BIMTECH organises several national and international conferences. Last year 12 countries participated in one such conference. Five research books have been published in last year."
"Fifty four students went to different countries including Australia, France etc as part of student exchange program. BIMTECH also has an Atal Incubation Centres", he added.
Thereafter doctorates and diplomas were awarded to the deserving candidates of the institute followed by administering of pledge of ethics and conduct.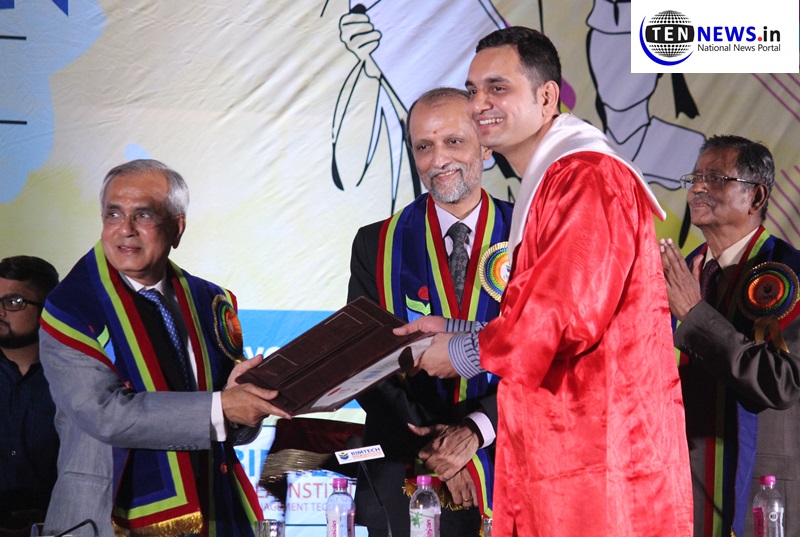 In his address, Dr Rajiv Kumar said, "Students are now going into social world and must not forget the ethics and values of the institutions. One must also not forget to respect their elders, teachers and parents. "
He also said that NITI Aayog played a vital role in the policies of the incumbent government.
"The entire Ayushman Bharat was incubated in NITI Aayog. 38% children were malnutritioned in the country which has been brought down to 34%. The e-mobility mission is housed in NITI Aayog. We are working in integrated medicine concept as of now to get Ayurveda and traditional form of medicine, their due recognition", he said.
He also talked about other aspects of the NITI Aayog and said, "NITI Aayog also does real time monitoring of work beigmng done by different ministries. We want to improve the accountability of this government. We have tried and changed the entire incubation innovation system in the country. Will establish fifty more Atal Tinkering Labs in next two months. NITI Aayog fosters competitive federalism in the country which makes states compete for different rankings and rewards. Lateral entry is allowed in the NITI Aayog which allows us to get fresh ideas and new Energy. In future people will see NITI Aayog emerging as power house of development."
Thereafter Dr Anupam Verma delivered the vote of thanks and the convocation was declared closed.
Students and parents later gathered for capturing the memories of the momentous occasion.
BIMTECH, Greater Noida 31st Convocation 2019: Photo highlights