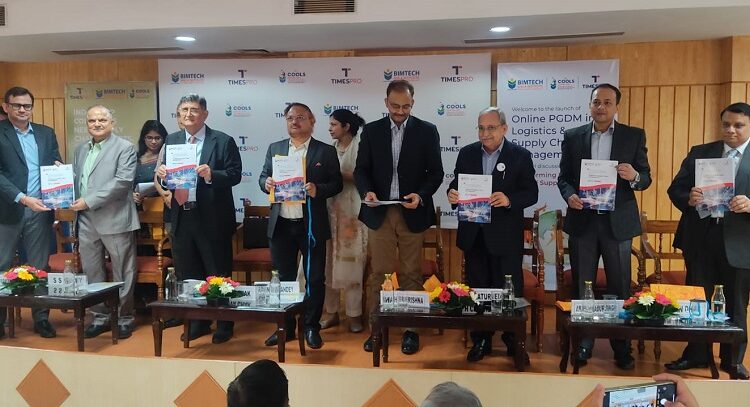 BIMTECH launches Online PGDM programme in logistics and supply chain management. Details here
TEN NEWS NETWORK
Greater Noida, 3 November 2022: Birla Institute of Management Technology (BIMTECH) on Thursday launched an online PGDM programme in logistics and supply chain management, in association with Times Pro.
The launch event was joined by BIMTECH Director Dr. H. Chaturvedi; Anish Srikrishna, CEO, TimesPro; Ravindra Pandey, VP Gopaljee Dairy, Ananda; Ranjan Dhar, independent consultant and strategy advisor among faculty members and students.
During the launch event, Prof. Dhruva Chak, professor of marketing at BIMTECH hosted a panel discussion on "Transforming India into a global supply chain hub" where all the guests talked about current challenges in the logistics sector and shared their ideas.
Sharing details of the course in conversation with Ten News, Prof. SS Dubey, chairperson, Center of Online Studies at BIMTECH stated that the course has been launched in collaboration with Timespro. The online program is AICTE approved and consists of 2400 hours of learning for the duration of 2 years. It covers about 80 credits and will be delivered to students in a hybrid mode. It has recorded lectures as well as live classes in a remote model. It also offers offline classes.
Speaking about the scope in logistics and supply chain education, he said, "Since India is growing very fast under the leadership of our Prime Minister, this program is going to bridge the skill gap for the trained manpower at managerial levels for managing logistics and supply chain which has got a lot of inefficiency challenges."
Speaking to Ten News about the challenges in the current ecosystem of logistics and supply chain, an independent consultant and strategy advisor, Ranjan Dhar said, "There are primarily two challenges. The first is about delivering on time correctly to the consumer because if you don't do that then the consumer gets a bad experience impacting the parent company. Then, another problem is having real-time insights into the logistics of the supply chain when goods are moving, how do you communicate back real-time insights from every nook and corner of the country."
When asked about how the recently announced National Logistics Policy is going to shape the logistics ecosystem in the country, Dhar said that the policy is a framework for giving a structured push to capture the opportunity that lies in the logistics in the supply chain arena. It focuses on three to four pillars with the prime focus being on an integrated digital system, the unified logistics infrastructure policy and e-logistics that NLP is in conjunction with the other initiatives of the digital India program."
For more information about the online PGDM in Logistics and Supply Chain Management, visit bimtech.ac.in.