BIMTECH welcomes new batch, Director assures parents of quality education and placement
Ten News Network
Greater Noida, 18th June: BIMTECH on Saturday hosted 35th Commencement Day programme "Deeksharambh" to welcome the students of batch 2022-24.

The programme was joined by Dr. Ajit Ranade, Vice Chancellor of Gokhale Institute of Politics and Economics in Pune as Chief Guest and Bhavna Batra, Executive Director – HR and Global People Programs Leader at S&P Global as Guest of Honour along with students from the new batch, their parents and BIMTECH's management, faculties and staff.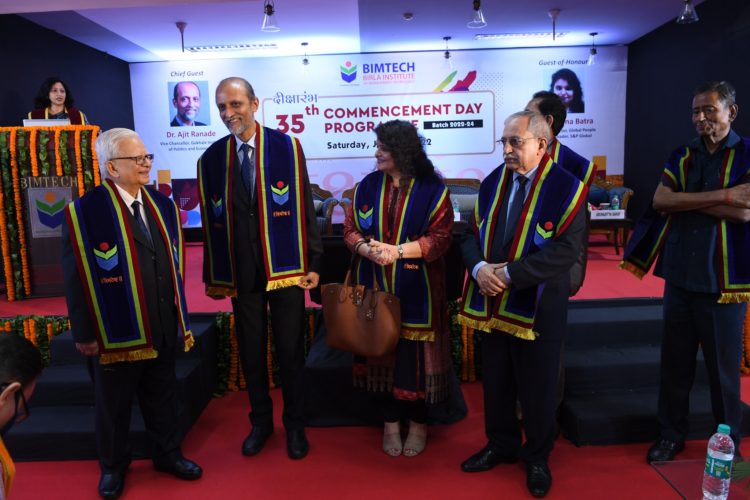 In his address, Dr. H. Chaturvedi, Director, BIMTECH stated that the institute is a mini India. "The students of 2022-24 batch belong to 22 different states of India. 36% are from Hindi speaking states. The gender ratio has improved with 40% female students in the new batch. 16% of the students have quality work experience," stated Dr. Chaturvedi.
Talking of BIMTECH's accomplishments in the past and future endeavors, he shared that the institute has received the coveted Category – 1 autonomy status by AICTE. BIMTECH is one of the only two institutions on all India basis who have been granted category 1 graded autonomy. It is also trying to get the AACSB accreditation, which is a gold international standard for management education.
Speaking of the Atal incubation Centre (AIC) facility, Dr. Chatuvedi said that there are only 50 AIC's in the country and AIC-BIMTECH has been considered as one of the best in the country.
The Director also spoke about the new gen technologies that are emerging as part of the 4th industrial revolution and assured the parents that BIMTECH students will be acquainted with these technologies. "To leverage 4th industrial revolution in the country, your institute has developed a new centre, and has introduced new courses in line with this revolution," he said.
Speaking of preparedness of faculties, he said, "BIMTECH faculties have undergone trainings to teach student in every condition. They have been trained at IIM Ahmedabad, Harvard business school in online, offline and hybrid methods to offer quality education to the students."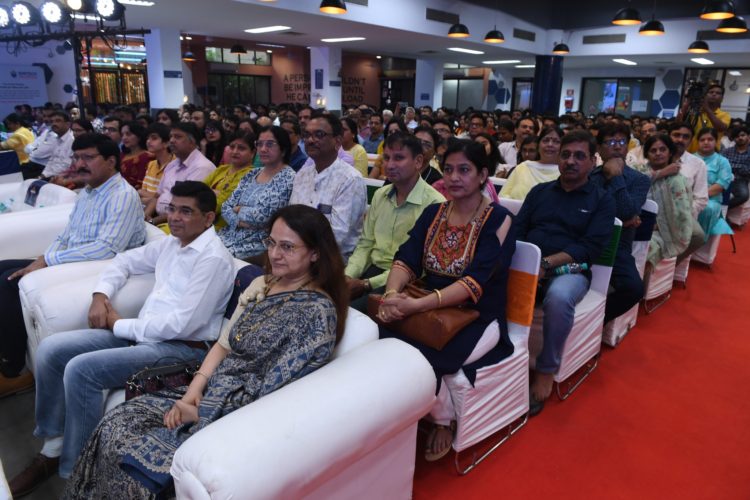 In his address, Dr. Chaturvedi assured the parents that the institute will take full responsibility of the students. "Your institution will not fail in protecting the safety of the students."
On placements, he said, "Placement is the outcome of economic conditions and performance of the students. I cannot deny the role of faculty and BIMTECH will not spare any efforts towards quality placement and education of the students. We are confident economy will also do good and our students will ride on this bandwagon."
In his address as a chief guest, Dr. Ranade assured parents and students of BIMTECH's quality. He said, "In domain of private sector management education, BIMTECH ranks in top 5, so you have made a right choice. BIMTECH does not believe in resting, it keeps climbing and reaching newer heights."
Dr. Ranade spoke in length about the economy and why one should look beyond the headlines to make sense of the economy. "As far as the economy is concerned, the economic headlines are often misleading. When we try to make sense of the economy we are stuck in analytical puzzles and we have to think beyond."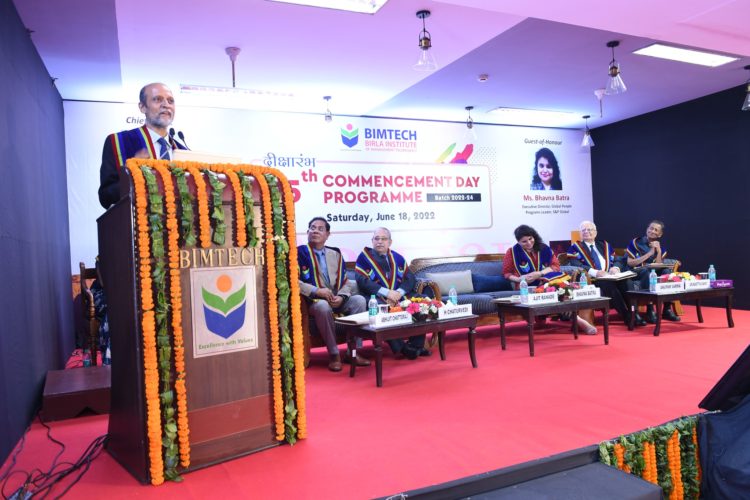 On placements, he advised the students not to worry about the package. "You should not be worried about placements. Don't let the packages discourage you. Don't be anxious, you are from the cohort that will do very well."
"Bottom line is that economy is good, however there are fiscal challenges but we have young demography. So, fiscal challenges are manageable but it will require patience," he said.
Bhavna Batra, who has served as VP-HR at Genpact, in her address, spoke about the world of work in the post pandemic world. "In the world of work, there are possibilities and no one can say we have achieved everything. I suggest you to be buoyant and be open to opportunities."
Advising students to actively participate in different activities during their college life, she said, "Don't just think about yourself but also think how you can contribute to the ecosystem and participate in multiple extracurriculars. Get involved in inter college and inter university competitions. Its about so much more than books."
Talking of significance of working hard, she said, "Invention is 93% perspiration, 6% inspiration and 1% butterscotch ripple. You cannot achieve anything without perspiration and getting your hands dirty. Better to fail fast than keep thinking about it."
Towards the end, Batra left students with challenging questions to contemplate on. She said, "If what you are doing was printed in newspaper and was read by the world and your parents, will you be okay with it? In last 3-6 months, what have you done for the first time? Have you started your journey towards what you are passionate about?"
The programme ended with unveiling of the annual activity reports of the Centre of Innovation and Entrepreneurship Development of Atal Incubation Centre of BIMTECH.
BIMTECH's 35th Diksharambh | Dr Ajit Ranade, Bhavna Batra and Dr H Chaturvedi ignite minds of buddying mangers | Photo Highlights