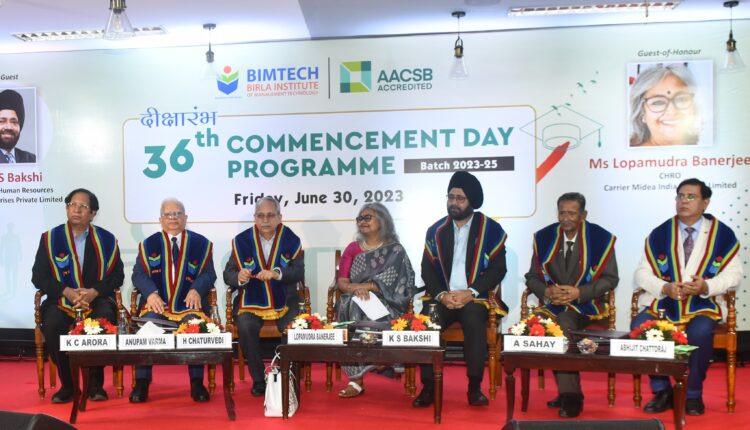 BIMTECH's 36th Commencement Day Celebrates Incoming Batch of 2023-25, Inspiring Promising Future
TEN NEWS NETWORK

Greater Noida/June 2023: Birla Institute of Management Technology (BIMTECH) welcomed the PGDM class of 2023-25 at the 36th commencement day held on Friday, 30th June 2023. The ceremony was attended by around 480 students accompanied by their families who witnessed them embark on a transformative journey of learning and leadership. The Commencement day at BIMTECH called the 'Deeksharambh' is a time of great pageantry and represents decades-old traditions of unique academic celebration. Ahead of the commencement ceremony, morning prayers were performed in piety followed by devotional music of Pt. Sujeet Kumar Ojha and group, Gandharva Mahavidyalaya, Delhi.
 In the evening, the event was marked by the cordial welcome address delivered by Dr. Harivansh Chaturvedi, Director, BIMTECH. He congratulated the incoming students on their acceptance and expressed gratitude to the parents for reposing trust in BIMTECH. He familiarised them with the profound academic legacy of BIMTECH duly recognized by international agencies including AACSB, NAAC and NBA. Highlighting the diversity of the incoming batch comprising four PGDM programs-PGDM-Core, PGDM-International Business, PGDM- Insurance Business Management and PGDM-Retail Management, which includes 38% female and 62% male students, he said that, "BIMTECH is proud to have cultivated the status of being a 'Mini India' which has students from 28 states and eclectic backgrounds, with 45% students from Science & Humanities, 38% from Commerce, 17% from Engineering, and approximately 20 percent of students holding quality work experience." He further iterated BIMTECH's role in creating social impact and stated, "We believe in our involvement in sustainability and inclusive growth, and the institute recycles natural resources and takes care of needs of future generations."
The landmark occasion was graced by the Chief Guest K. S. Bakshi, Group Head – Human Resources, InterGlobe Enterprises Private Limited, who has provided strategic and operational leadership to the Human Resources Function for over 30 years in aviation, hospitality, telecom and manufacturing sectors. In his commencement remarks, he shared infinite wisdom with the freshmen laying emphasis on five life lessons which are foundation skills for lifelong development- getting your hands dirty, mindfulness, passion for purpose, curiosity and building relationships. He exhorted the students to grab the tremendous opportunities available and said, "You have to seek help, it's not really about books, social media searches; you have to seek help from the strong set of faculty and management team at BIMTECH who will guide and mentor you." He delineated the skills of the future as- "harnessing technology, leveraging networks, fostering innovation, demonstrating resilience and displaying agility." In his closing remarks, he highlighted the importance of being respectful to everyone and to oneself.
The event also witnessed an inspiring address from the Guest-of-Honour, Lopamudra Banerjee, CHRO, Carrier Midea India Private Limited.  In her keynote deliverance, she addressed the students and remarked, "What a transformative journey and career opportunity you are embarking upon!" Every opportunity is going to hone, sharpen you and carve a path ahead." She outlined the challenges that lay ahead and reminded them to let their conscience and moral compass point due north in all their choices and decisions. She quoted Thomas Edison, "Opportunity is missed by most people because it is dressed in overalls and looks like work." Banerjee urged students to connect with people who inspire and challenge them, and to keep in mind the 'Uketamo' motto of acceptance with grace.
The exalting speeches were succeeded by the unveiling of the annual report of the Centre of Innovation and Entrepreneurship Development, Atal Incubation Centre (AIC) BIMTECH. Promoting entrepreneurial ventures is an integral aspect of BIMTECH ethos which is reflected in crores of grants given and received, more than 300 startups and 3165 jobs created by the centre. The solemn occasion concluded with the vote of thanks delivered by Dr. Anupam Varma, Deputy Director, BIMTECH. Thus, the future flagbearers began their academic journey at BIMTECH which is the pinnacle of Indian management education.
BIMTECH 36th Commencement Day | K S Bakshi | Lopamudra Bannerjee | Photo Highlights