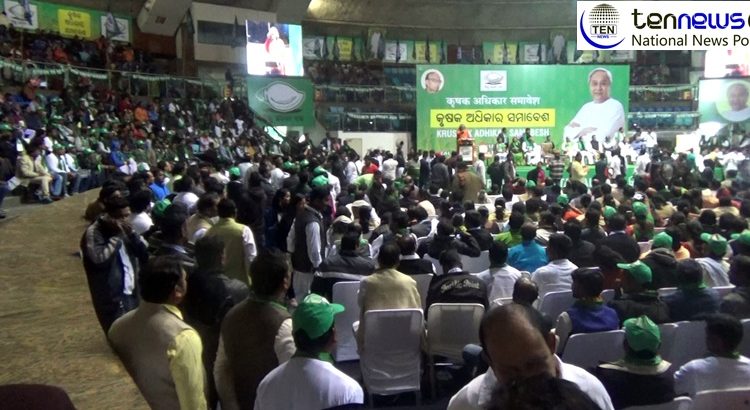 BJD stage protest in Delhi for seeking hike in MSP of paddy to Rs 2,950 per quintal
Shaihzad Abid (Photo/Video) By Lokesh Goswami Ten News Delhi
New Delhi: More than 10000 farmers from Odisha gathered at Talkatora stadium, including all BJD MPs, MLAs, panchayat representatives and farmer leaders demanding immediate intervention from the Centre, Minimum Support Price (MSP) is a Central Government prerogative, despite repeated requests to the ruling government it has been ignored.
Biju Janta Dal demanded that this was in line with the Swaminathan Committee's recommendation and should have been actioned as committed in its manifesto in 2014 to increase the MSP by at least 50%.
Addressing the public, Naveen Patnaik, CM of Odisha said, "the farmer is the soul of the Indian economy".
"I have gone to the Centre many times with this demand, but it has been ignored. It was promised by the BJP also in 2014, but they have forgotten their promise after coming to power," he said.
The Odisha state assembly in a unanimous resolution requested the Union Government to fix the MSP of paddy at Rs 2,950 per quintal while the current MSP is Rs 1730.
Following the event the adjoining areas of talkatora stadium can be seen occupied with BJD hoardings and thousand of farmers with party's flag.