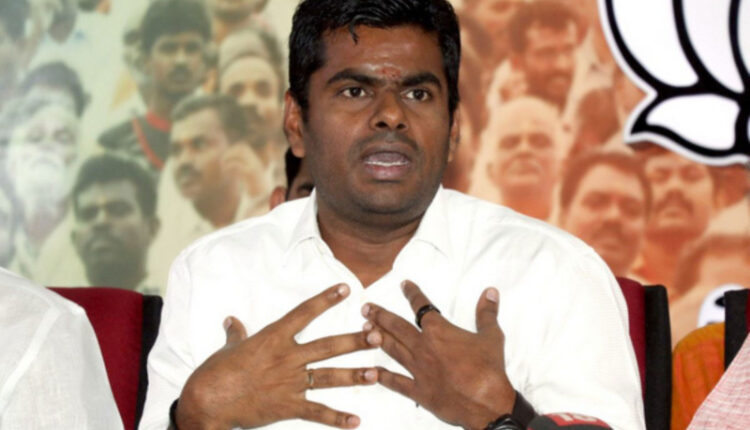 New Delhi (India), 27th Jan 2023: In a scathing attack on the ruling DMK government in Tamil Nadu, the state's BJP president, K. Annamalai, has accused the alliance of insulting the national anthem by not allowing it to be played during the stormy proceedings in the state assembly earlier this month.

Annamalai was referring to the tussle between Governor RN Ravi and the MK Stalin government, which escalated after the January 9 proceedings in the assembly with Chief Minister Stalin moving a resolution against the Governor when he was seated in the House.
Speaking to ANI's Smita Prakash, Annamalai said, "We need to understand what happened before the governor's speech. The governor did not add a single word. Governor Nixon never disrespected the national anthem. You have to understand the context. It was a very tense atmosphere. The governor was made to feel unwelcome. If you look at the scenes unfolding before the governor spoke, the Speaker even did not condemn the members who were shouting."
Annamalai said that DMK leaders had made a few statements in the last 20 months that might have "irritated" the governor. He referred to a DMK MP who had said that "conditions that existed in 1965 for demanding a separate state exist even now." Annamalai also said that a DMK spokesperson had said that "Tamil Nadu is always separate."
"We disagreed with him. The country was there. In 1956, the boundaries were divided on the basis of language." Annamalai added.
He further said that the Governor had only made a suggestion to the DMK to consider the word "Thamizhagam," which would be more appropriate, and clarified that the Governor had never imposed anything or said that the word "Tamil Nadu" is wrong.
Annamalai also dismissed Speaker M. Appavu's allegation that the Governor had insulted the entire nation by leaving the Assembly premises even before the national anthem was sung. He said, "The governor did not add a single word to the speech. The governor did not read that one line. He maintained a steady silence. Then DMK did not play out the national anthem purposefully."
Annamalai concluded by saying that any sane political observer will say that the Governor had done the right thing.