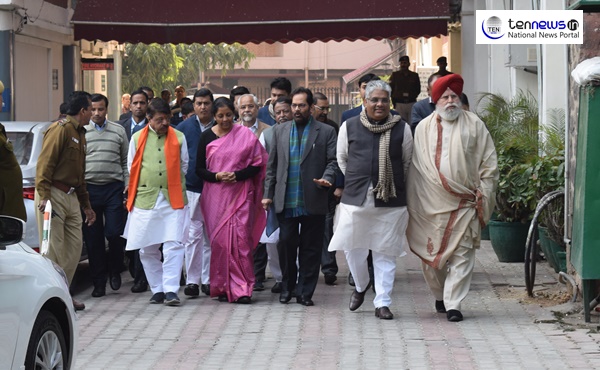 New Delhi: (04/02/2019) Veteran Bharatiya Janata Party leaders reched Election Commission of India as West Bengal government denied permissions to land Uttar Pradesh Chief Minister Yogi Adityanath's chopper in the state.
The political power tussle between West Bengal government and the centre is on peak from January as the state government denied permissions for the landing of BJP Chief Amit Shah chopper following a saffron party's rally in the state, after which the supreme leaders chopper was landed on a private property.
On Sunday, the West Bengal government has denied the landing of UP CM chopper which again heated the political tussle among the state and the centre, following the denial, the saffron party on Monday took the issue to Election Commission of India (ECI)
Union Minister Mukhtar Abbas Naqvi, Defence Minister Nirmala Sitharaman and SS Ahluwalia went to ECI to surface the issues faced by saffron party in West Bengal.
Speaking to media, Defence Minister, Nirmala Sitharaman said,"The party which is ruling in the state and its supporters are out in the open to ensure that no other political party gets permission to carry out its legitimate activities ahead of the polls,"
While Union Minister Mukhtar Abbas Naqvi requested the elimination of state machinery "We have also requested the poll panel to remove those state government officers who are acting as agents of the state government and sought deployment of central armed forces for smooth, free and fair conduct of the election in the state."