BJP Chief Amit Shah claims 250 terrorists killed in Balakot airstrike
India : The government is yet to give an official count of terrorists killed in India's air strike on a terror camp in Pakistan's Balakot last week, but BJP president Amit Shah declared a number at an election rally on Sunday in Gujarat. He claimed that "more than 250" terrorists were killed in that operation, which makes him the first leader of the ruling party to put out a figure on record amid questions raised by the opposition.
"After Uri, our forces went into Pakistan and carried out surgical strikes. They avenged the death of our soldiers. After Pulwama, everyone thought there could be no surgical strikes, what will happen? But under (Prime Minister Narendra) Modi's leadership, the government carried out an air strike after the 13th day and killed more than 250 terrorists," Amit Shah said in Gujarati, at the public meeting in Ahmedabad.
As the BJP emphatically denies politicising the Indian Air Force (IAF) strike and the confrontation with Pakistan, its chief also said India was only the third country after the US and Israel to avenge attacks on its armed forces.
News agency ANI reported that at another event in Surat, Amit Shah also said: "Earlier our jawans used to be beheaded and insulted but today, situation is such that when our jawan fell in Pakistan while shooting down an F-16, within 24 hours he was back. This change is because of Narendra Modi's will power."
Congress leader Manish Tewari seized on the comments to accuse the BJP chief of "milking the air strikes" for politics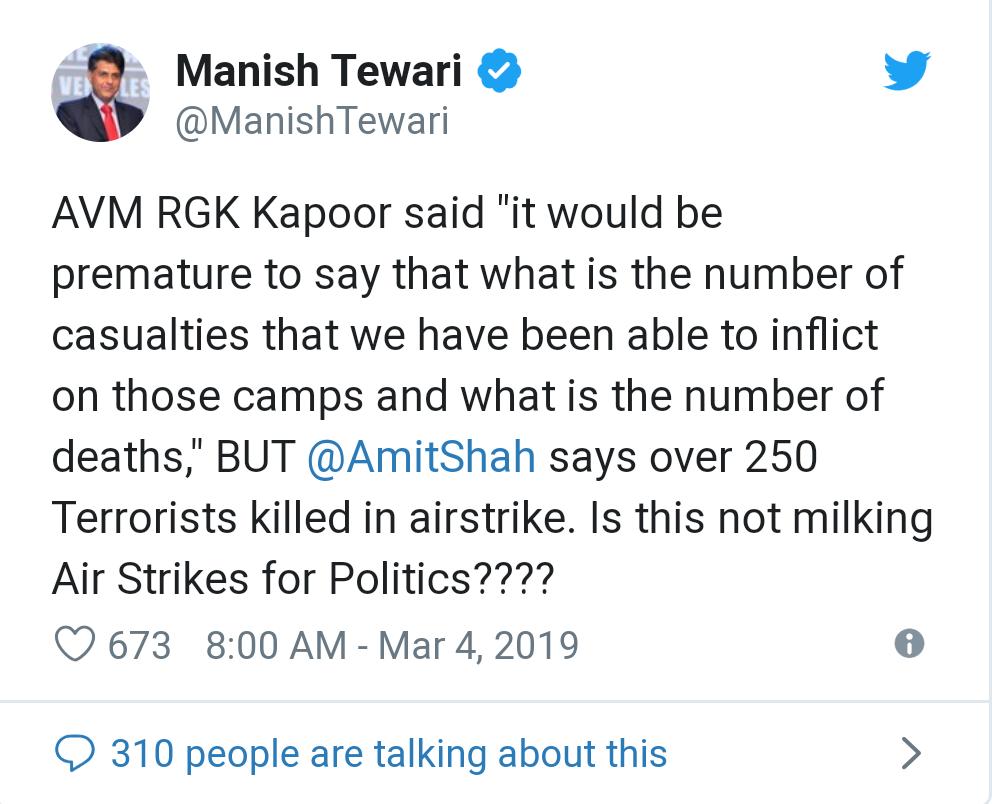 .