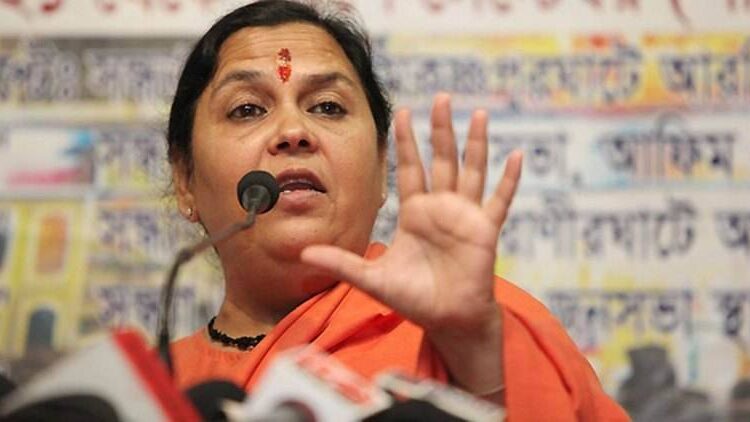 BJP Leader Uma Bharti Ties Cows to Liquor Shop in Madhya Pradesh, Calls for Ditching Alcohol
Ten News Network
Madhya Pradesh, (India) 3rd Feb 2023: Bharatiya Janata Party (BJP) leader Uma Bharti tied stray cows in front of a liquor shop in Orchha, Madhya Pradesh, on Thursday and fed them hay in a bid to discourage alcohol consumption.

The former Chief Minister, who has been leading a campaign against alcohol in the BJP-ruled state, said the government should not benefit from people's drinking habits.
Ms. Bharti was heard chanting "Sharab Nahi, Doodh Piyo" (drink milk, not liquor) in front of the Indian-made foreign liquor (IMFL) shop in the historic town of Orchha. She had previously thrown cow dung and a stone at the same liquor shop in June 2021 and March 2022, respectively.
The salesman of the outlet immediately closed the shop's shutters, anticipating a repeat of the 2022 incident.
The Hindutva leader admitted to being partly responsible for the prevailing drinking problem in the state and reminded the audience that the BJP had been in power in MP since 2003, except for 15 months in 2018–2020 when the Congress was in power.
She praised Chief Minister Shivraj Singh Chouhan for his "courage" in accepting that the existing excise policy has some flaws and said he had promised to draft a new one in consultation with yoga guru Ramdev.
The Madhya Pradesh government is expected to bring out a new excise policy soon. Speaking at a Republic Day function, Mr. Chouhan had said the new excise policy would discourage drinking.