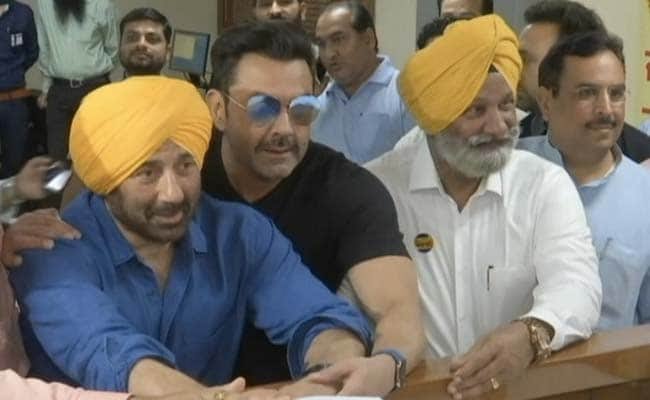 BJP Lok Sabha Candidate Sunny Deol files nomination from Punjab's Gurdaspur
Vishal Malhotra (Photo-Video) Lokesh Goswami Tennews New Delhi :
Actor-turned-BJP candidate Sunny Deol filed his nomination papers from Punjab's Gurdaspur. Earlier in the day, Sunny Deol, offered prayers at the Golden Temple in Amritsar before leaving for Gurdaspur, 75 km away.
Punjab BJP chief and Rajya Sabha MP Shwait Mailk, Haryana finance minister and party"s election incharge of Punjab Capt Abhimanyu and Akali leader Gurbachan Singh Babehali also accompanied Deol along with his brother Bobby.
Via a tweet, veteran actor Dharmendra sought support of the people for the victory of his son Sunny Deol from Gurdaspur seat.
"We seek your support…Support us…it will be your victory. It (victory) will be of brothers of sisters of my Punjab. It (victory) will of India"s beautiful part of Gurdaspur," Dharmendra tweeted.
Sporting a blue turban and a blue shirt, Deol, who himself is a Sikh, entered the shrine complex with folded hands, accompanied by his supporters. He offered prayers at the 'Harmandir Sahib', the sanctum sanctorum.
Sunny Deol faces tough competition from Congress candidate and sitting MP Sunil Jakhar, who is the Punjab Congress president. Others in the fray from the same constituency are AAP's Peter Masih and PDA's Lal Chand.