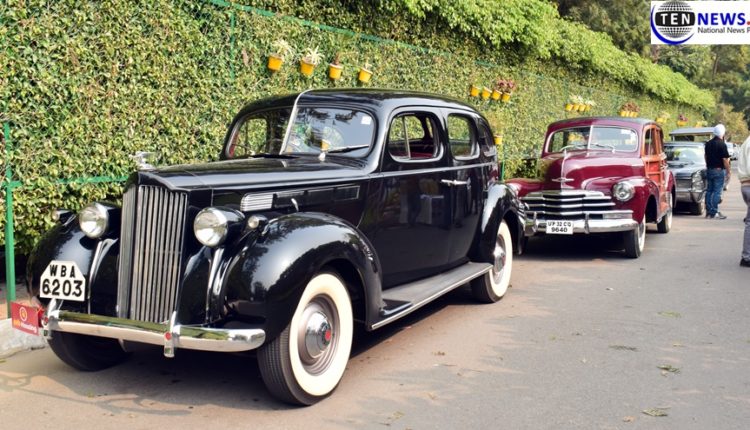 Block your date for romance with past The Statesman Vintage and Classic Car Rally is back
Saurabh Kumar/Lokesh Goswami Tennews New Delhi :
New Delhi : Delhi's top calendar event when eyes follow the beauties on wheels is set for a date with vintage connoisseurs.
The John Morris of the 1914 make will trudge once more on the wide roads of the national capital on Monday, as the newspaper house is back with the 54th edition of The Statesman Vintage and Classic Car Rally on February 23.
The 7 HP powered Austin of the 1922 make will rush along with the 1140 CC Wolseley of 1939, both manufactured in the United Kingdom, on the Monday morning in the oldest vintage car rally, which over the years has gained an inseparable identity with the national capital.
Round the year the proud owners of the antique vintage cars source parts of the vehicles from across the world to stay fit to take part in the rally, which will be spread over three days, February 21-23.
On February 21-22, the vintage antique cars would be judged for their fitness, originality of parts, performance and engines, besides getting ready for the finale. The Modern school on Barakhamba Road will be the venue.
On February 23, the likes of Singer Roadster (1939), Pierce Arrow (1936), Studebaker (1930), Hillman (1936) will line up for the flag off at iconic The Statesman House, Barakhamba Road, to speed to Cyber Hub, Gurugram, for showcasing. The prize distribution will take place at the National Stadium, India Gate.
The Statesman Vintage and Classic Car Rally is a continuously run event, which began in Delhi in 1964. It's being hosted in Kolkata also continuously since 1968, as The Statesmen's Vintage Car Rally. The Statesman, founded in 1875, on its own is seen as India's vintage newspaper organization, with publications from New Delhi, Kolkata and Bhubaneswar.
Over 50 vintage car owners would take part in the rally, which will see the participation of the international connoisseurs of automobiles, industry representatives who would delve into the delight of the engineering, craft and design of the early decades of the last century.