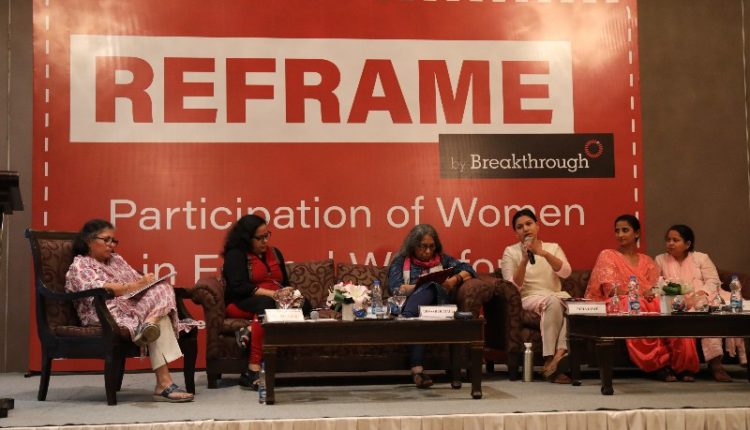 Breakthrough organises Let's Reframe- Participation of Women in Formal Workforce
New Delhi: Breakthrough organised a convention, 'Let's Reframe'- Participation of Women in formal Workforce' at Eros Hotel in the capital city that invited a diverse group of stakeholders (like NGOs, government departments, agencies, schemes, laws and policymakers working for the welfare of working women) on a common platform to build partnerships that will help to increase the participation of women in formal workforce and create a safer & supportive work space.
The event addressed issues impacting lives of women working in formal sector in India through three panel discussions that focussed at exploring factors responsible for women in India rapidly falling out of workspaces. The event encircled about awareness and sensitisation programme with young and adolescent girls on career choices, aspirations and also make them realise their agency and worth as equal members of the society. During the event it was also discussed to make adequate and appropriate budgetary provisions for women and child related issues and priorities. The infrastructural and public provisions that would assist and ease women's mobility should be promoted/operationalized.
The point of discussion during the event was about the constant contestation between the social identity and the work women do, which requires a recognition of women's work and her economic productivity at the family level, as well as societal level. For the increase in participation of women in workforce, revision of HR policies were also the key points which were discussed to assist women to join formal workforce since several women take break in their careers where flexible work arrangements must be considered.
"Women's workforce participation cannot be understood in isolation – we need to rethink the tools and involve analysts, practitioners and people on the ground", Urvashi Butalia, Publisher, Writer & Director of Zubaan said while discussing contributing factors to bring back women in workforce.
In Asian countries, specifically in India, participation of women in formal-workforce is declining particularly in the formal sector despite the increase in the competencies of women to contribute. This eventually constitute of gender biased workplace policies in terms of hiring, flexible working conditions, and lack of conducive workplace environment or infrastructures for women employees. Sexual harassment during commute and at workplaces and weak response mechanisms are also challenges which every working women has to face day in and day out. And in many cases domestic violence and harassment at workplace also adds up to dual or double burden.
'It's not that we haven't heard this perspective earlier, but it's the pressing need to revisit the advice and recommendations. If the infrastructure for women to enter in formal workforce is not created, then women's economic value will forever be ignored. There is a need to overhaul policies and overall social norms", says Sohini Bhattacharya, CEO & President, Breakthrough India in concluding remarks.