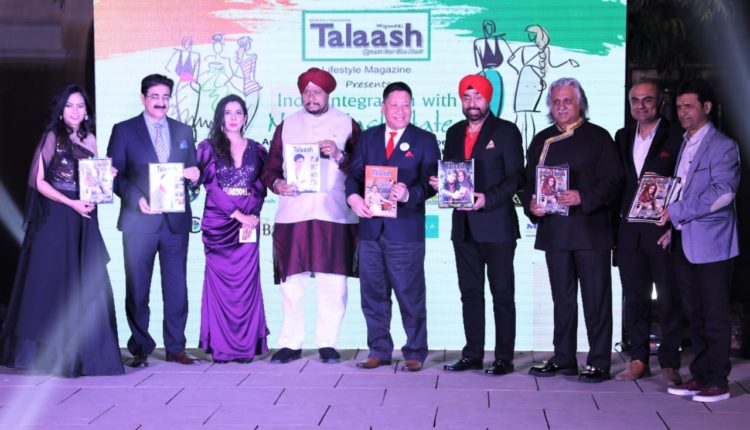 The capital city was witness to a spectacular cultural and felicitation event that saw Delhiites honouring the North East unsung heroes. The theme of the event titled "India Integration with North East States" was organized in the heart of the city in Bikaner House, Pandara Road, New Delhi on December 5th, 2019.
A brainchild of eminent Media Personality Rajni Panwar and Ace Fashion Designer Rosy Ahluwalia, the highlight of the glorious evening was the honouring of the unsung heroes from North East States. This was ensued by a passionate speech by Robin Hibu, the former Nodal officer for the North East, and the present Special Commissioner of Police, Delhi Police.
Hibu delved upon the myriad issues plaguing the North East states, and the possible remedial measures.
The country's rich cultural heritage was showcased by a mesmerizing fashion show by Rosy Ahluwalia.
The event was graced by the crème de la crème of the society and many distinguished personalities notable among them being Sdr. Avtar Singh (North Delhi Mayor), Hotelier and Philanthropist Sdr. Kanwarjeet Singh Kochhar, Manish Kumar (Streetway Holidays), Smita Shrivastav (Founder- President at Confluence & CEO at The Art Kommune), Sandeep Marwah (Founder of  Noida Film City & AAFT), Rajni Kalra, Renu Sharma (Noted Social Crusader), Sanjay Malik (General Secretary, Ekta Mission), Yogi Kochhar, Sangeeta Kataria (renowned eye specialist), Ekta Chimnani (Noted Mind Healer), Sumit Gupta (Founder-Director TATSAT) to name a few.
The guests had a rollicking time savouring the scrumptious hors d'oeuvre, a tireless initiative of Arvind and his diligent team of caterers.
The core team of North East Chamber of Commerce was given a rousing reception when they were invited on the stage.
Around 10 Achievers from North East States were duly honoured during the course of the event. Notable among those who were felicitated in the event included the likes of Hibu Anna (Black Belt and 4 times Delhi Champion in Karate), Dr Takhelmayun Sangita- Chairperson North East Cultural Forum), Helping Hands- (A charitable, non profit NGO that has done path breaking work to serve the North East People in distress), North East Chamber of Commerce, Dr Alana Golmei (Eminent Human Rights Lawyer), Jyoti Zongluju (Master of Criminal Law), Abel Achumi (Noted Social Crusader & Philanthropist), Daniel Stone Lyndgoh- (Legal Luminary).
The Philanthropist of the year award went to Dr SPS Oberoi (Founder and President of Sarbat Da Bhala International Charitable Trust).
Year Achiever Awards in different categories were conferred on Rajshri (Editor in Chief, APN Northeast News), Amit Rana (Renowned Singer), Sushil Vakil (Editor in Chief, Samachar Post English Daily), Deepak Kaushik (Ace Photographer & Videographer), Ankit Arora (Entrepreneur & Political Analyst), Anu Gupta (Noted Educationist) and Maushmi Burman.
Rajni Panwar, convenor and conceptualizer of the event said, "The Theme of the event "India Integration with North East states' says it all. Our initiative was to drive home the message that the mission of "New India" cannot be achieved without getting the seven sister states of North East and Sikkim into the mainstream. It is a matter of pride to be associated with both Helping Hands as well as North East Chamber of Commerce. Undeniably one of the most outstanding officers of the Delhi Police and the first IPS officer from the North Eastern state of Arunachal Pradesh, Robin Hibu has brought laurels to not only his home state, but to the entire country. He has been honoured twice with the prestigious President of India Distinguish Service Medal. He has made a definitive mark by leading from the front, and relentlessly crusading against ending racism. As the Founder & President of 'Helping Hands' which is a charitable, non profit, non government organization working pan India for empowering the needy, with emergency and legal support, Hibu epitomizes hope, happiness and a sense of safety- security for the North East  fraternity dwelling in different nooks and corners of the country. Heartfelt gratitude to all our associates and supporting partners for making the event a grand success. We have high expectations from the Ministry of Development of North Eastern Region (DONER) that functions as the nodal Department of the Central Government to deal with matters related to the socio-economic development of the eight States of Northeast India: Arunachal Pradesh, Assam, Manipur, Meghalaya, Mizoram, Nagaland, Tripura and Sikkim. Under the astute leadership of the visionary Dr Jitendra Singh, we envisage DONER playing a very critical role in not only acting as a facilitator between the Central Ministries/ Departments and the State Governments of the North Eastern Region in the economic development, but also as a driving force in creating a conducive environment for private investment, and for ensuring long lasting peace and security in the North Eastern Region."
Philanthropist Kanwarjeet Singh Kochhar said, "Through his international charitable trust named "Sarbat Da Bhala" which means "Welfare of All, Dubai based Indian businessman Dr SPS Oberoi has accomplished countless humanitarian missions since the last three decades. Over the years, Philanthropy has become a way of life for him. In the last few years, Oberoi has been instrumental in saving many lives from the gallows, and it was his noble deeds that earned him the sobriquet "Saviour Singh".  We feel honoured and inspired both with Dr Oberoi pledging his unrelenting support and time for the cause of "India Integration with North East states"."