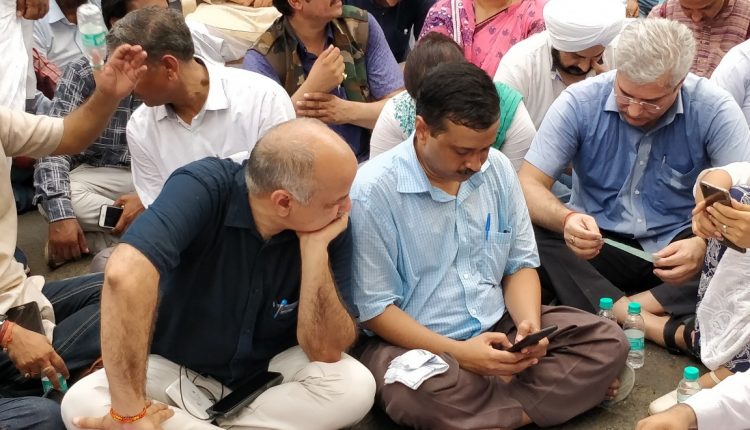 New Delhi: Delhi Witnessed high political drama on Monday as Chief Minister Arvind Kejriwal, Deputy CM Manish Sisodia, Ministers and all AAP MLAs marched from Kejriwal's residence to the Lieutenant-Governor House, to discuss the acrimony over the issue of setting up CCTV cameras in the city.
The decision to hold the march comes after a weeklong battle of letters and words between the Delhi government and the L-G office over the issue of setting up 1.4 lakh CCTV cameras across the capital.
Kejriwal, Sisodia along with the Ministers and MLAs, took of a march to LG house to make him understand the importance of CCTV project and how it would strengthen women security in the city.
Speaking to Ten News Exclusively, Deputy Chief Minister of Delhi, Manish Sisodia Said, "The BJP's L-G is sitting on CCTV files; he is saying he won't let the CCTVs be installed. For three years, when we were working on this project, the L-G was silent. Suddenly now, when the tender has been allotted, he sees loophole in the system."
"Only aim of setting up the committee was to interrupt government work and not let the CCTVs be installed. Setting up CCTVs was a key poll promise of the Aam Aadmi Party," said Sisodia.
On the other hand, Lt Governor Anil Baijal Tweeted, "Despite agreeing to meet Hon. CM Arvind Kejriwal with his Ministers & Hon. MP although my yesterday's letter had clarified that no proposal for installation of CCTVs has been recd nor I hv issued any orders to stall/stop award of work, Hon. CM prefers to protest without reason".