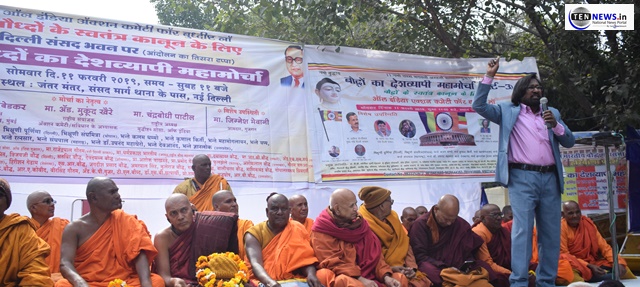 New Delhi Thousands of believers of Buddha community gathered at Jantar Mantar in New Delhi to protest against the ruling BJP government.
All India Action Committee for Buddhist Law (AIACBL) was demanding "Buddhist Personal Law" from the ruling government in centre from past three years, AIACBL has earlier protested in New Delhi but the government didn't reciprocated to thier demands.
According to AIACBL National Convenor Mukund Kahirey, " the Indian Constitution in section 346 allows the parliament to constitute personal law for every religion, the government has send our query to law commission, this government is hurting the sentiments of thousands of Buddhists and discriminating our community.
This is the third time the community has demonstrated a massive sit-in in the national capital.
The protesters challenged the government that if the government will not take adequate steps for the constitution of the law, the Buddhist community will vote against the BJP in upcoming Lok Sabha elections.
The prominent Buddhist leaders who joined the sit-in includes Chandrabodhi Patil, Ummed Singh Gautam, H L Raje, Harishan Godam, Dr Maniram Dekate and
Mukund Kahirey.
Protesters haling from almost all the states joined the agitation and raised their voice in hope that it will materialise thier demands.