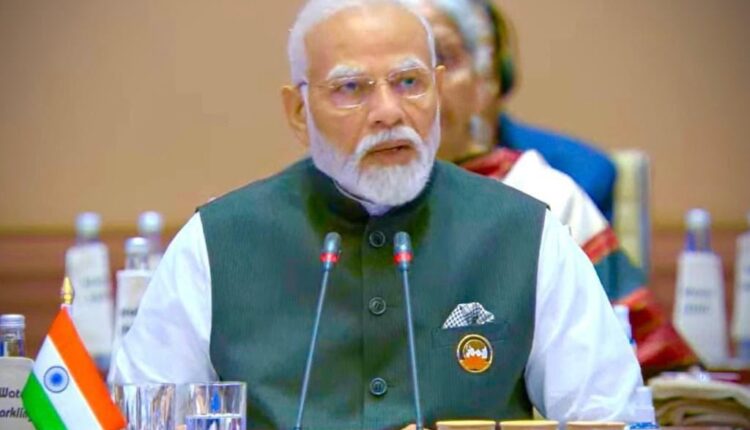 Centre for Narendra Modi Studies Hosts Grand Seminar for PM Modi's 73rd Birthday

New Delhi: The Centre for Narendra Modi Studies (CNMS), New Delhi is all set to host a grand National Seminar and Book Release Ceremony in honor of Prime Minister Narendra Modi's 73rd birthday. The theme for this event is "Narendra Modi – Harbinger of Prosperity & Apostle of World Peace." This remarkable gathering is the result of a collaborative effort between CNMS and SPWD, and it aims to commemorate the significant contributions of Prime Minister Narendra Modi to India and the world.
The CNMS is committed to showcasing the exceptional works and accomplishments of India's beloved Prime Minister. PM Modi's leadership, vision, and unwavering dedication to the nation have touched the lives of people from all walks of life. His journey from humble beginnings to the highest office in the land serves as a source of inspiration for millions, both young and old.
The choice of celebrating Prime Minister Modi's birthday as a day to honor public service and nation-building is particularly apt. Throughout his political career, he has consistently championed the causes of development, progress, and the welfare of the common citizen. His visionary initiatives, such as "Make in India," "Swachh Bharat Abhiyan," and "Digital India," have had a profound impact on the nation's growth and development.
At its core, CNMS is dedicated to promoting education and fostering the study of democracy, equality, and political thought in India. Prime Minister Modi's tenure has witnessed a renewed focus on educational reforms and the expansion of opportunities for students across the country. His commitment to skill development and digital literacy reflects his forward-thinking approach to education.
The National Seminar organized by CNMS promises to be a prestigious event, with an array of distinguished guests and eminent speakers set to share their insights. Among the notable participants are Shri Harivansh, Deputy Chairman of the Rajya Sabha, Ms. Rekha Sharma, Chairperson of the National Commission for Women, Dr. Bu Abdullah from Dubai, and Dr. Nowhera Shaik, National President of the All India Mahila Empowerment Party.
Also, Neeldaman Khatri, a former MLA of Delhi, and Col. Gautam Das will contribute their perspectives on the occasion. Prof. Jasim Mohammad, Chairman of the Centre for Narendra Modi Studies, will play a pivotal role in guiding the discussions and ensuring the event's success. Prof. Jasim Mohammad's extensive experience and knowledge make him a valuable asset to this celebration.
Programme Co Convener Prof Divya said, The National Seminar will be graced by the presence of a distinguished Chief Guest, former Prime Minister of India, Shri H D Deve Gowda. His esteemed presence adds to the significance of the event, and his insights are anticipated with great interest by all participants
The grand event is scheduled to take place on September 17, 2023, starting at 5:30 PM. The chosen venue for this memorable celebration is the Multipurpose Hall at the India International Centre in New Delhi. As the day unfolds, attendees will have the opportunity to reflect on the remarkable journey of Prime Minister Narendra Modi and the positive impact he has made on India's development and global stature
Prof Jasim Mohammad said, In these challenging times, celebrating leaders who have worked tirelessly for the betterment of society is an important reminder of what can be achieved through dedication, innovation, and a vision for a brighter future. The CNMS event not only acknowledges the achievements of Prime Minister Modi but also serves as a platform for fostering dialogue, unity, and the exchange of ideas.
Chairman CNMS Prof Jasim Mohammad said, As India and the world continue to grapple with complex issues and uncertainties, the celebration of leadership and vision becomes even more critical. Prime Minister Modi's commitment to public service, nation-building, and global peace exemplifies the qualities that inspire positive change and progress.
Trustee of CNMS Dr Daulat Ram Sharma said, The National Seminar and Book Release Ceremony organized by CNMS is a fitting tribute to a leader who has left an indelible mark on the nation and the world. It is an occasion to celebrate accomplishments, share insights, and reaffirm the values of leadership, dedication, and progress. With distinguished guests, eminent speakers, and a sense of purpose, this event promises to be a meaningful gathering that honors the spirit of public service and the pursuit of a better tomorrow.