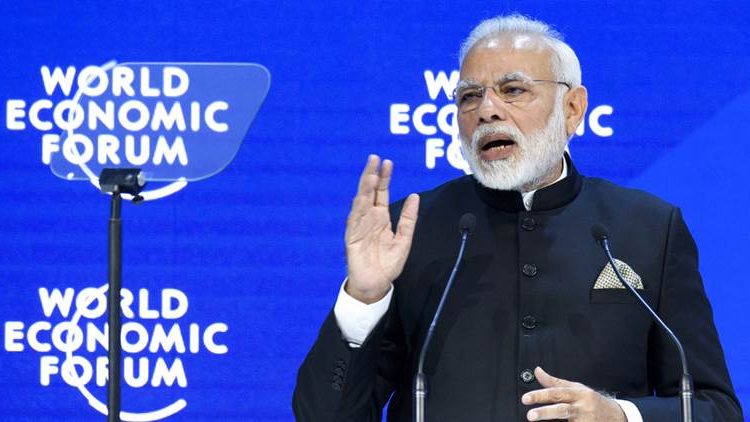 Climate change, terrorism is major threat to mankind: Modi at World Economic Forum
Kashif Hasnani
(24/01/2018)
Terrorism is dangerous but what is equally dangerous is the artificial distinction made between 'good terrorist' and 'bad terrorist'
New Delhi: 'Climate change and terrorism are major challenges before the world which needs to be addressed but nobody is coming forward to challenge it, said Prime Minister Narendra Modi while delivering a keynote address at the World Economic Forum's (WEF) annual meeting at Davos on Tuesday.
Narendra Modi is the first Indian Prime Minister to attend Davos summit in 20 years.
Terrorism is dangerous but what is equally dangerous is the artificial distinction made between 'good terrorist' and 'bad terrorist', said Modi while asserting that youths from well-off families are rapidly stepping in terrorism world, which is a matter of great concern for all of us. Though India's stand is very clear and everyone is aware of our position on the menace of terrorism.
Key points of PM's speech —
Indian philosophy of 'Vasudhaiva Kutumbakam' (the world is one family) is more relevant today to address fissures in the world.
Last time when an Indian PM came here in 1997, India's GDP was around $400 billion, now it has increased more than 6-times.
Change in India's ranking is an indicator that the people in India have warmly welcomed the change in policies as the road to a better future for them.
We in India are proud of our democracy and diversity. For a society with diverse religions, cultures, languages, attires and cuisines, democracy is not just a political system but a way of living.
In India democracy, demography and dynamism are giving shape to development and destiny.
In 2014 after 30 years, Indian voters provided complete majority to any political party to form government at the centre. We took the resolution for the development of everyone and not just a specific group. Our motto is 'Sabka Saath Sabka Vikas
Mahatma Gandhi's Principle of Trusteeship to use things according to one's need is important. He was against use of anything for one's greed. We're today exploiting nature for our greed. We need to ask ourselves if this is our progress or regression
Data is the biggest assets these days and those counties who control and secure their data will rule the world.
Many societies and countries are becoming self-centred. It seems that gloabalisation, as opposed to its definition, is shrinking. Such misplaced preferences can't be considered any lesser threat than terrorism or climate change. We must admit shine of globalisation is fading.
First time in the history of Independent India, we have introduced common text system Goods and Services Tax (GST). And we are using technology in board way to place transparency.
With the help of Germany we have been working on a project to generate 175 GW renewable energy by 2020 to reduce carbon emission and till date, we have achieved ¼ of the target.