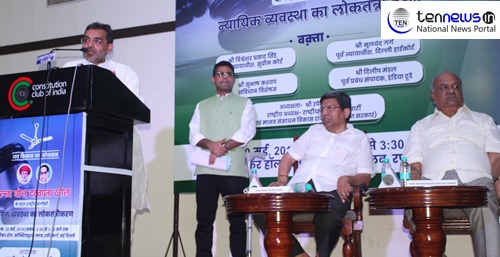 New Delhi: Union Minister Upendra Kushwaha on Sunday said that collegium system to selects justice and chief justice of High courts and Supreme Court is a bolt on the judiciary and there is no democracy in the court.
He attacked on collegium system while addressing in 'Halla Boll Darwaza Khol' seminar organised by his own party Rashtriya Lok Samta Party (RSLP) on 'Democratisation of Judicial system' in Delhi today.
He further said, to abolish this system, Union government mooted the National Judicial Appointments Commission (NJAC) bill and passed in the parliament but Supreme Court declined the bill.
Aimed to create awareness and to advocate the cause of increasing inclusiveness in Indian Judicial system, the RSLP has launched a campaign 'Halla Boll Darwaza Khol' where former High court and Supreme Court judges and journalist shared their views.
Speaking in the event, senior advocate and writer Subhash C Kashyap said, "Appointment either by collegium or other methods was never happened fairly. Judges takes benefits; sometimes they made recommendation on cast basis before sending recommendations or while appointing judges.
He strongly opposed the collegium system and said that the rejection of NJAC bill by the Supreme Court is totally unconstitutional. Moreover, government should frame a law to refrain judges to hold government offices post-retirement. "Post-retirement job promise to the justices or chief justice is a threat for the independence of judiciary. Government should frame a law to stop this practice," he added.
Later, senior journalist and social activist, Dilip Mandal said that collegium system is the worst system to select the judges and there is no method to check transparency in it. "To become an IAS, IPS you have to pass USPC exam and interview, to become government employee you have to pass examination and interview but to become judge you don't need to pass any exam or face any interview."
Referring BR Ambedkar's statement while framing judicial system in constitution assembly, Mandal said, "Delivering speech in the constitution assembly BR Ambedkar said that I can't trust the future Chief Justice of India because he will be a human and just like others he also has desires. He could make mistakes, he is not a god.' The same is happening today. To gain personal benefit, judges altering with the court orders or giving wrong decisions."
Retired Supreme Court judge, Bisheshwar Prasad Singh, former judge of the high court, Mool chand Garg also took part in the event and shared their views on judiciary.