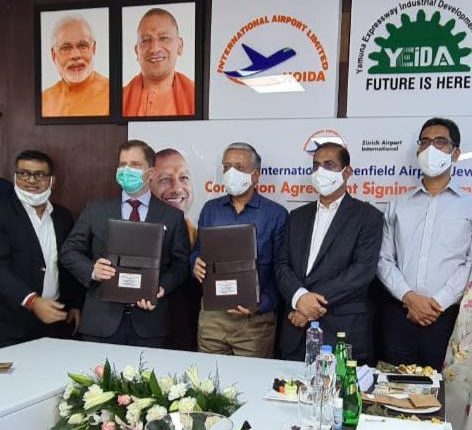 Concession agreement signed, work to commence for Noida International Airport
Ten News Network
Greater Noida (Gautam Buddha Nagar): All set to give wings to the dream of high-flyers from the region, Uttar Pradesh government on Wednesday signed the concession agreement with the representatives of Zurich Airport International.
The signing of agreement will pave way for commencement of Noida International Airport's construction at Jewar in Greater Noida.
CEO of Noida International Airport Limited (NIAL) Arun Veer Singh and Christoph Schnellmann, Chief Executive Officer of Yamuna International Airport signed the deal today afternoon, in a ceremony attended by key dignitaries from state and district.
Scheduled to open in 2024, Noida Internation Airport will be developed as a Public Private Partnership (PPP) model. Touted to merge Indian hospitality and culture with Swiss technology and efficiency, the upcoming airport is remarked to be the biggest in the country.
Present during the occasion, Addition Chief Secretary SP Goyal said, "Infrastructure development will be the key to economic recovery, not only in the state but for the country. The construction of NIL will support economic growth through job creation in the state, while making it a preferred destination for investors."
CEO of Zurich Airport International, Daniel Bircher termed the signing of this agreement as a key milestone in the development of Noida International Airport. "When phase 1 development is complete in 2024, we will provide capacity for 12m passengers per year," he said.
Outlining that this world class airport will not only connect Western UP region with other domestic and international destinations but will also provide additional capacity to the whole Delhi-NCR region, CEO of NIAL Arun Veer Singh said, "Together we look forward to building's India's leading airport which boasts of quality, efficiency, technology and sustainability."
Earlier in November last year, Zurich Airport International AG had won the contract to build and operate the airport in Greater Noida.