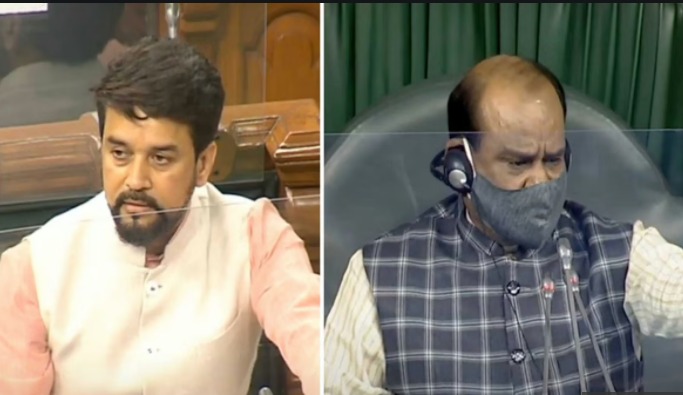 Congress and BJP leaders on Friday had a fierce confrontation in Parliament on the issue of PM Cares Fund, which was setup by the Central government in lieu of Covid-19 pandemic.
The issue came to forefront, after Congress leader Manish Tewari demanded that the fund should have been created through a public legislation.
"Since the PM CARES Fund has the name of the institution of the Prime Minister attached to it, wouldn't it have been more appropriate if this fund would have been created through legislation rather than as a public trust," Tewari said in Lok Sabha.
Responding to it, Minister of Finance (State) Anurag Thakur said that it is the habit of the opposition to find fault in everything as their intent is defected. "Opposing PM Cares Fund, just for the sake of it, is like they opposed EVMs & then lost many elections. They subsequently termed Jan Dhan, demonetization, Triple Talaq and GST as bad. They find defect in everything, truth is their intention is defected," Thakur told parliament.
He also invoked the reference of the first Prime Minister of India Pandit Jawahar Lal Nehru and said, "Nehru ji ordered the creation of Prime Minister's National Relief Fund in 1948 like a royal order but its registration has not been done even till today. How did it get FCRA clearance?"
Thakur also outlined that PM-CARES fund was a public charitable trust and added, "It has been set up for the people of India. You (Opposition) created trusts for Gandhi family. Nehru and Sonia Gandhi have been members of PM's National Relief Fund. There should be a debate on this."
While opposition member objected to Thakur's remarks, he later made a statement asserting that his intent wasn't to hurt anyone. "I had no intent to hurt the sentiments of anybody. Agar kisi ko thes pahunchi hai, to mujhe bhi is baat ki peeda hai."