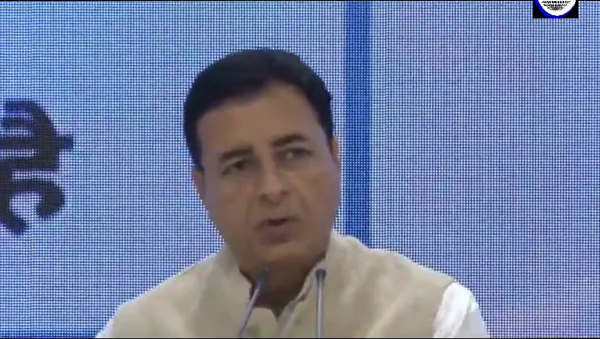 Congress hits out at BJP following SC's order of classified "stolen" documents on Rafale Deal admissible
TALIB KHAN/ JITENDER PAL- TEN NEWS

New Delhi, (10/4/2019): Congress Spokesperson, Randeep Surjewala held a press conference at Congress headquarters targeting the BJP government, accusing them of corruption in the Rafale deal.
Addressing the media, Surjewala said, "Theft of crores in the name of Rafale deal has been caught, Modiji, you can run and lie as much as you want, But sooner or later the truth comes out. SC has upheld a time honoured legal principle. A rattled Modiji had threatened to invoke Official Secrets Act against independent Journalists for exposing his corruption on Rafale."
"The 'secret' documents on rafale will be seen in view of its evidential value and not in terms of how it was sourced. This action of the Supreme Court has blown the last lid on the government's defence to try and protect the unashamedly corruption in Rafale deal", he added.
He further said, "Don't worry Modiji, an investigation is going to take place now, whether you like it or not the skeletons in Rafale Scam are tumbling out one by one. And now there is 'no official secrets act' to hide behind."
Today, the Supreme Court's 3 Judge bench unanimously rejected Centre's objections, rules classified "stolen" documents on Rafale Deal admissible. Supreme Court agreed to hear the review petitions against the Rafale verdict on merits, dismissing preliminary objections raised by the centre.