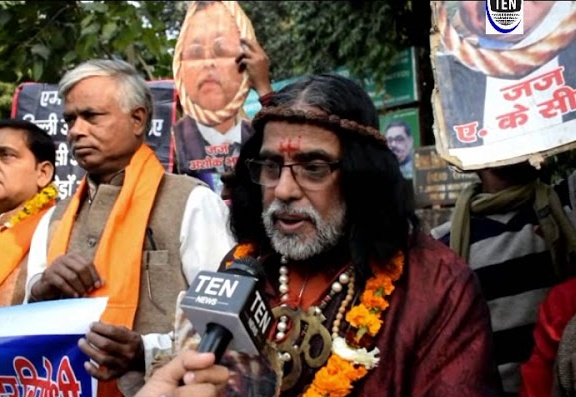 New Delhi: Bigg Boss contestant Swami Om stir up a controversy at any given time. Controversial Baba Swami Om knows how to be in news again. From getting beaten up at a news channel to bein thrown out of the biggest Indian reality show, Bigg Boss, Om Swami has witnessed it all.
//youtu.be/KjG5dXMy7-w
Om on Friday, While Interacting with Ten News on Ram Mandir Issue , Irking another controversy said that,
"On 29th January, with lacs of my followers I will enter the Supreme Court with the weapons and i will beat the 5 Judges in the courtroom. After the budget session i will force the government to pass the ordinance. If my demands are not met BJP will be Removed from the Centre and the State."
Hitting back at the Controversial Baba Statement, Col P Chandra , NOIDA said,
"This guy is a joker. Ram Mandir must not be delayed. But this type of statement is scandalous.That said it is disappointing that courts are taking so long to decide about title suit of the disputed land."
"He deserves to be arrested jailed immediately. I m surprised why is he not arrested so far. He has threatened Honble Judges if SUPREME COURT," said, Ex Dy Registrar K M Kapoor.