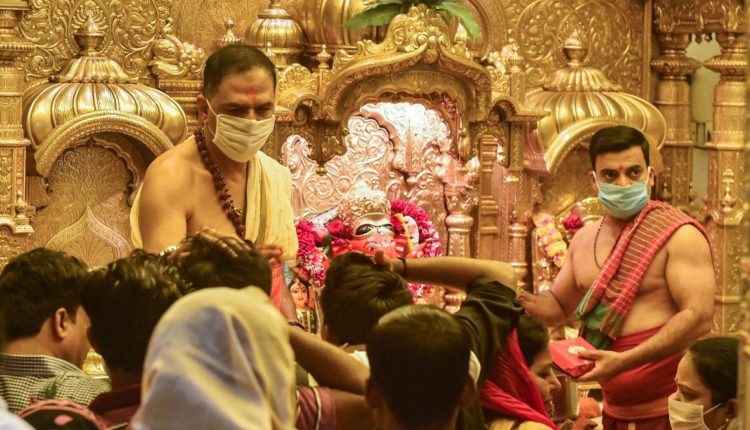 Corona pandemic forces devotees to distance from Gods and Goddesses
BY AMAN KUMAR
Delhi (17/03/2020) :- The coronavirus pandemic has affected every part of human life, be it shutting down of malls, pubs, shops, ban on gatherings or the disturbing closure of places of worship like temples, churches, mosques.
Recently, Mumbai's Siddhivinayak Temple closed its gates for its devotees. The temple which is located in Prabhadevi instructed its workers to wear medical masks. The temple authorities also provided hand sanitizers for everyone inside the temple premises. "We are providing sanitizers to all the devotees in the temple and the railings which devotees hold while standing in a queue are being cleaned every 30 minutes," Temple trust Chairman Adesh Bandekar said. Except for the Siddhivinayak Temple, world-famous Ajanta and Ellora caves and Tuljabhawani temple are also closed in the state of Maharashtra.
Not just Siddhivinayak is taking precautions amid the virus' growing grip, but other temples like the Vaishno Devi shrine banned foreign travellers temporarily over the pandemic. It restricted all foreigners from visiting the temple within 28 days of their arrival in India. It also directed domestic pilgrims to postpone their visit to the temple as a precautionary measure.
The Vatican also announced that the Holy Week celebration in Rome will be closed to the public because of the "current global public health emergency." Leaders of The Church of Jesus Christ of Latter-day Saints told its 15 million members all over the world that all public gatherings would be suspended and people won't gather for Sacrament Meetings on Sundays. The pandemic has also forced archdioceses to suspended public Masses.
The Friday group prayers, which are like a religious obligation for Muslim men have also been halted as they lead to mass gatherings. Muslims in Kuwait, Germany, Iran and other spots around the world suspended services as of Friday.
The Tirupati temple issued time-slot tokens to its devotees from Tuesday. The move is directed to prevent the spread of coronavirus. The devotees won't be allowed to sit in the compartments of 'Vaikuntham Queue Complex' to avoid person-to-person contact and will reach the sanctum sanctorum directly. The Tirumala Tirupati Devasthanams also began thermal screening of their devotees.
The Swaminarayan sect has announced to close all its temples globally and suspend routine activities until further notice as part of its efforts to protect the health of volunteers, visitors and local communities. "To prevent large gatherings, BAPS temples will be closed throughout the world, but devotees will be given daily darshan through the websites of each mandir," the Bochasanwasi Shri Akshar Purushottam (BAPS) Swaminarayan Sanstha said.
Rajasthan's Mehandipur Balaji temple in Dausa district also closed its doors amid the virus outbreak. "In the larger public interest, we have taken the decision to disallow devotees to visit the temple till further orders," Mahant Kishor Puri, President of the Mehandipur Balaji Temple Trust said.