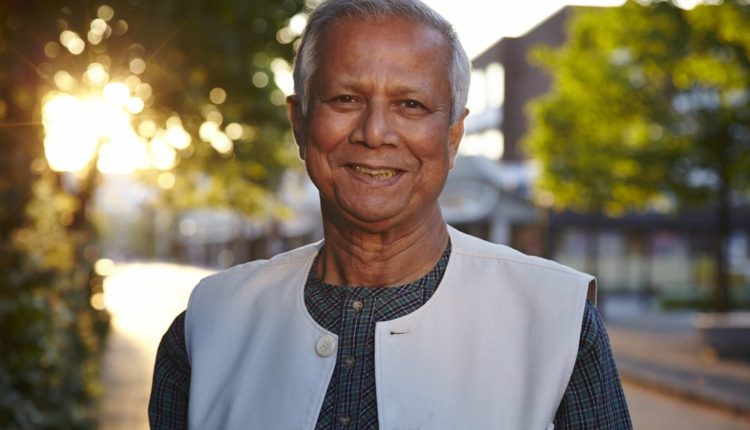 Covid-19 presents an opportunity to build a new world by defying old rules: Nobel Peace Laureate Prof. Muhammad Yunus in Galgotias University Webinar
Greater Noida, 9th July: Prof. Dr. Muhammad Yunus, Nobel peace laureate and Founder of Grameen Bank in Bangladesh delivered a keynote address in a webinar on "Post-Corona Reconstruction Program" organized by Galgotias University, Greater Noida on Wednesday.
Prof. Yunus who pioneered the concepts of microcredit and microfinance has inspired similar efforts in about 100 developing countries and even in developed countries including the United States.
While talking about his journey of starting Grameen Bank, he recalled how people were living a terrible life in villages in Bangladesh which were right across the boundary of his campus he was teaching at in early 1970s. He added, "The famine in Bangladesh in 1974 shook me and that's when I realized that the economics I teach doesn't have any meaning because I can't use the economics knowledge to help people and to make their lives better."
"After the realization, I tried to see how I can make my economics useful for them and how I can help the victims of the loan sharks (who charge sky high interest rates on loans)."
"That's when the idea came to my mind to lend the poor from my own pocket. It soon became popular and everybody wanted to borrow from me. I felt very happy and that was the beginning of the micro credit."
"The micro credit system started spreading and Grameen Bank was founded along the way."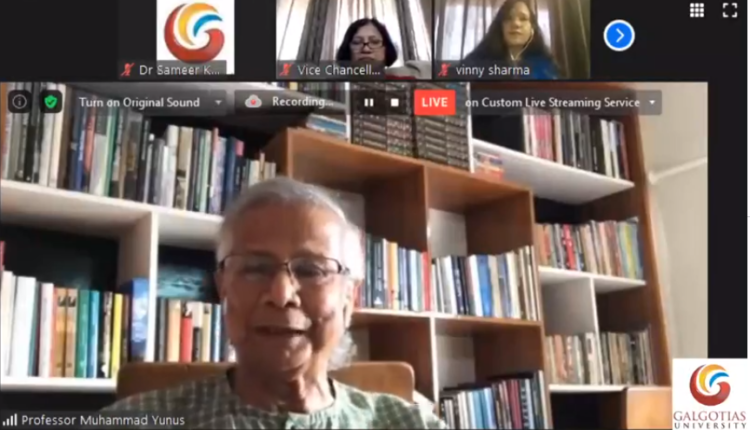 On Covid-19, Prof. Yunus said that Coronavirus is causing terrible thing particularly in low income families. But he also talked about how Coronavirus presents an opportunity to build a new world by defying the old rules.
He touched upon social problems such as Global Warming, Wealth concentration and unemployment.
He said that Coronavirus is a blessing as it has given us a break from the path which was causing all these social problems.
"Going back to this path will be like committing suicide. We should get to the opposite direction, where there will be no global warming, wealth concentration and unemployment."
"In the opposite direction, we will have to do things in different ways. Our micro-credit system worked because we defied all the rules of conventional bankers."
"When people ask me about how did you build grameen bank, I say that I learned what the conventional banks do, and then I did the opposite. The conventional banks lend to the rich, I started lending to the poor."
While talking about Social businesses, Prof. Yunus said that profit maximising objective of businesses is responsible for most of the social problems. So now, we must start building social businesses which lie in the middle of the objective of maximising profit and Charity.
"This is the greatest opportunity we have now with us due to the Coronavirus. The social businesses must take a new path and work for the benefit of the poor."
Replying to a question on unemployment, Prof. Yunus said that we have always been trained to seek jobs and we have been told that if you don't get a job then there is something wrong with you.
In B-schools, we are taught how to make money for our shareholders, and that's how wealth concentration happens.
There is no need to wait for a job, one should become an entrepreneur. If everybody starts working for themselves then there will be no wealth concentration.
Job is the end of the creativity because you have to follow instructions, even if you hate those instructions.
Towards the end, Prof. Yunus suggested students to choose an unconventional path and believe in themselves to build a new world.
The webinar was joined by Galgotias university CEO Dhruv Galgotia, Vice Chancellor Dr. Preeti Bajaj and hundreds of faculties and students.
WEBINAR BY NOBEL LUAREATE PROF.(DR.) MUHAMMAD YUNUS

'Post-Corona Reconstruction Program' based on Social Business #dhruvgalgotia #galgotias #galgotiacollege #galgotiasuniversity #galgotiasstudentcouncil #galgotia #galgotiamemes #galgotiasinstagram #engineeringlife #engineering #computerengineering #computerscience #cloudcomputing #medicalscience #architecture #tourism #hospitality #medicallab #bsc #msc #pharmacy #physiotherapy #tourism #hospitality #architecture #nursing #media #communication #aviation

Posted by tennews.in on Wednesday, July 8, 2020