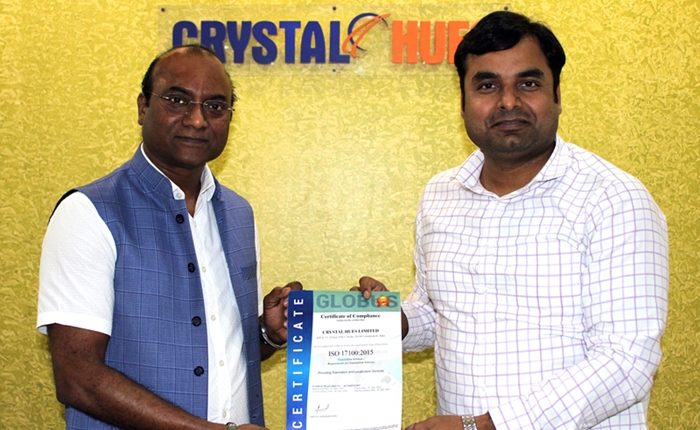 Crystal Hues Limited, a leading marketing communication and localization company in India, is awarded ISO 17100:2015 certification that ensures adherence to processes and best practices for delivering high-quality translation and localization services.

A thorough audit was conducted by certified auditors over a period of 45 days which oversaw the restructuring of processes to ensure compliance with the requirements. The auditor commented that unlike many organizations that are just focused on getting the certification, Crystal Hues has "earned the certification for localization services through the strict on-ground implementation of processes in true spirit."



On this achievement, the President of Crystal Hues Limited, Mr Sudheen M, said "The ISO certification for localization services reinforces our commitment to delivering the highest quality possible. I congratulate our dedicated team who work untiringly to making Crystal Hues among the most recognisable brands in India."  
Sandip Ghatak, CEO, CHL Localization added, "Our team's constant endeavour towards achieving the long-term vision of being the market leader has brought us to this new milestone. We are placed as one of the forerunners in the industry and we must build up from here a strong and motivated team of professionals to further strengthen our position in this ever-competitive market." 
CHL localization helps to communicate across all languages and regions. One of the biggest challenges a business faces in a new region is the language and cultural barriers. If a business does not talk the right language, it can lead to the colossal loss. CHL is the preferred localization partner for Indian languages and international languages by most of the leading international localization companies based in the UK, the USA, Germany, Singapore and Japan. CHL's expertise is used by over 5,000 national and international organizations from diverse segments, government establishments, multinational companies, as well as advertising and PR agencies. CHL Localization client list includes World Bank, Facebook, Pepsi, BMW, SBI, Accenture, Amway, Bates, BBC, Canon, DY&R, GE, Gillette, Hughes, Infosys, KPMG, Lafarge, Virgin Atlantic, WHO, etc. 
Crystal Hues Limited is uniquely positioned as the ideal communications partner providing complete communication life-cycle services through its four specialized verticals namely, CHL Localization – focused on translation and localization, CHL Worldwide – focused on integrated advertising, CHL Digital – focused on digital marketing and CHL SofTech – focused on building technology solutions. The procedures and systems practised by Crystal Hues Limited are ISO 9001:2015 & ISO/IEC 27001:2013 certified and works with more than 5,000 clients, including large multinational companies, small and medium enterprises and government establishments.