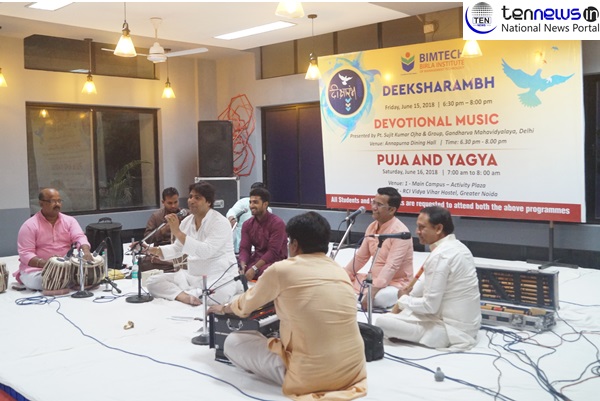 Deeksharambh Ceremony Begins With An Evening of Musical Devotion At BIMTECH Greater Noida
Saurabh Kumar
Following the custom of celebrating "Deeksharambh" to formally welcome the students and their parents to BIMTECH family. BIMTECH Greater Noida welcomed PGDM 2018-20 batch to their B-School journey yesterday.
A devotional musical night was organized where Pandit Sujit Ojha and his team performed bhajans. Sujit Kumar Ojha is a renowned singer from Delhi and faculty, member at Gandharv Mahavidyalay. He has done performed at different parts of the world. He mesmerized everyone with melodious Bhajan performances.
During the event Sujit Ojha's Skartik also performed a Bhajan and enthralled all. Impressed with his performance Director of BIMTECH Dr Harivansh Chaturvedi also rewarded him with a cash prize after the program.
Bhargavi, daughter of a faculty member from  BIMTECH  also performed a classical version of Sarswati Vandana which grabbed every one's attention. Program ended with Hanumaan Chalisa and after that every artist was felicitated with a shawl as a token of gratitude.