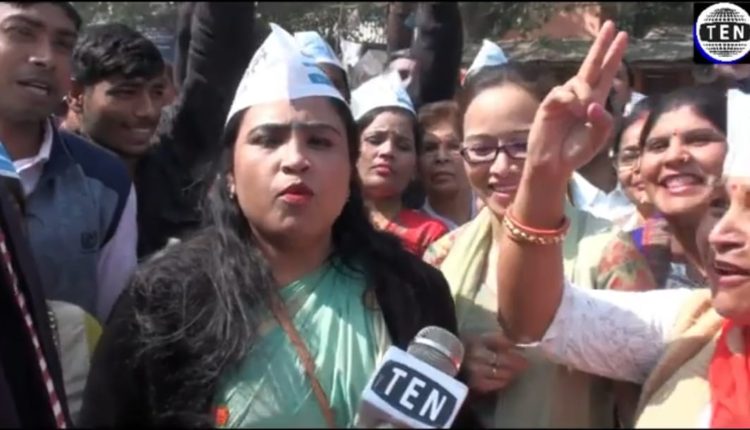 New Delhi (16/02/2020): Arvind Kejriwal took oath for the third time with his entire cabinet at Delhi's Ramlila Maidan. Addressing the public after being sworn in as Chief Minister, Arvind Kejriwal referred to PM Modi and said "I want to take Delhi forward with the Central Government and to make Delhi the number one city in the world". He also said that he had sent an invitation to PM Modi to take oath, but he had a program in Varanasi so he could not come. "In such a situation, I want PM Modi and Union Ministers to bless us to take Delhi forward", commented Kejriwal.
Ten News caught up with several Delhiites of all ages, at the outskirts of Ramlila Maidan, and questioned, 'What do Delhi expect from Kejriwal this time?'.
Commenting on the question, one old male said, "Kejriwal is an educated person and knows the basic needs that the public requires. His honesty can never be doubted and he is the best CM that Delhi ever had."
When asked about comparison between Kejriwal and Modi, one person said, "Any competition between both of them will result Kejriwal as a winner. You can note this yourself that BJP lost Delhi Elections even after carrying out star campaigns lead by major BJP faces. Even the Prime Minister came out to campaign for BJP but it still saw a major defeat."
Delhi CM today said that it is not my victory, it is the victory of Delhi's people, it is the victory of every Delhiite. This is the victory of every mother, every sister, every youth, every student, this is the victory of every family in Delhi. Arvind Kejriwal said that in the last five years it has been our endeavor to bring prosperity and some relief in the life of every Delhiite. In the last five years, it has been our endeavor that how every person of Delhi should develop rapidly, and this will be our endeavor in the coming five years as well.