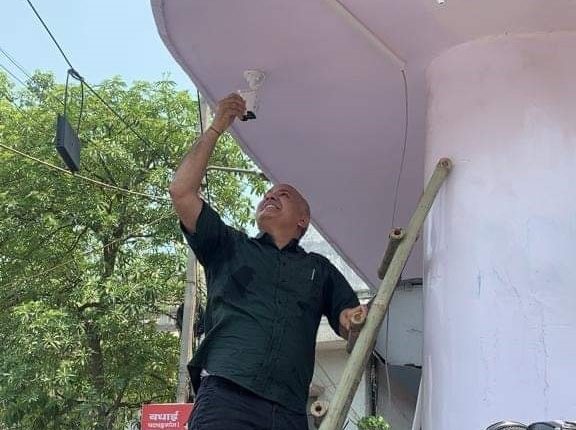 Delhi Dy CM Manish Sisodia Launches Govt's Flagship CCTV Camera Installation Paroject!
Prerit Chauhan (Photo-Video) Lokesh Goswami Tennews New Delhi :
New Delhi: Delhi government's flagship project for the installation of 1.4 lakh CCTV cameras was launched today by Deputy chief minister Manish Sisodia from his constituency.
Delhi Deputy Chief Minister Manish Sisodia today installed a CCTV camera in Patparganj which is his constituency. He said "With the increase in crime in Delhi especially against women our govt has decided to install CCTV cameras across the city.Project of installing 3 lakh cameras have started."
Sisodia have started the work of installing 2000 CCTV cameras at the Super Shine Chowk of Patparganj in the Legislative Assembly.
While Addressing the Media,He said,
"Entire Delhi is to get 1.4 lakh CCTV. Patparganj will get 2,000 cameras in the first phase.And, tender process begun for another 1.5 lakh cameras. So, entire Delhi will have about three lakh cameras."
He further said, "Our sisters and daughters will get the biggest relief, the cameras shall be installed separately for schools and buses."
When asked to comment on 'Metro Man' E Sreedharan objecting to AAP's proposed free travel scheme for women in the Delhi Metro, he said, "There was a time when people never thought of metro. E Sreedharan was a superb engineer. He visualised it and now it is there. Today people are saying it is not possible for the government. It is possible."