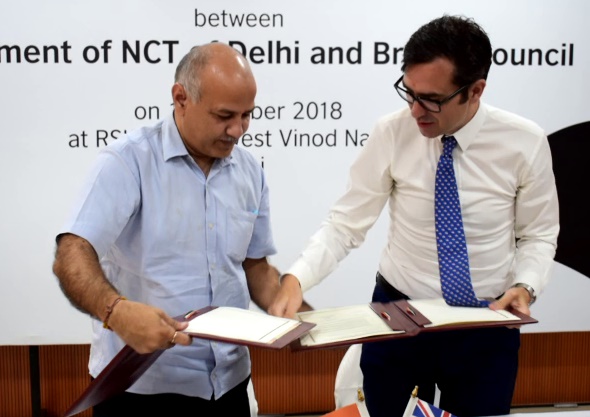 Delhi Govt., British Council sign MoU on expanding partnership in education
Lokesh Goswami Ten News Delhi :
New Delhi, 16 October 2018: The Government of NCT Delhi today signed an MoU with the British Council to strengthen educational cooperation between the two organizations. On behalf of the Delhi Government, Manish Sisodia, Deputy Chief Minister, Delhi signed the MoU with Alan Gemmell OBE, Director, British Council India at the Rajkiya Sarvodaya Kanya/Bal Vidyalaya, West Vinod Nagar, Delhi in the presence of British Council Chair Christopher Rodrigues and hundreds of students, teachers and senior officials of the Education Department of the Delhi Government.

British Council is celebrating its 70th anniversary in India. Over the years, it has been working continuously towards creating growth platforms and opportunities for young people. English proficiency plays a key role in allowing students and professionals to realize their potential and secure better opportunities both in India and globally. British Council has partnered with 14 State governments in India, and governments in many countries across the world in enhancing English language skills of the target learners.
British Council's engagement with the Government of Delhi goes beyond English teaching at schools. Young researchers and students from the State have been travelling regularly to the UK for higher education and professional development through Scholarships such as Commonwealth, Chevening, GREAT, CWILT and most recently the British Council's own 70th Anniversary Scholarships which have provided opportunity for 21 young women from North India to pursue Master's Degrees in STEM in the UK.
Speaking at the event, Manish Sisodia, Deputy Chief Minister & Education Minister of the Government of Delhi said, "Our government is very focused on education of children because they are the future. Though we have been working with the British Council,this MoU aims to expand the scope of our engagements to skill development of youth & cooperation in Art & culture as well. He highlighted the fact that for the first time, the MoU which impacts the life and learning of children is being signed in a Government school instead of a Secretariat or a five start hotel. "Now Delhi Government schools are not only providing good quality education to its students, they are also confident of hosting an important event like this", Mr. Sisodia added.
Alan Gemmell OBE, Director British Council India said: "Today's agreement sees us partner the Delhi Government and Macmillan Education to offer 12,000 young people the English language tools that help them have a better future. Delhi has been at the heart of our story in India for the last 70 years and with this partnership we are building the story of our next 70 years. We've been delighted to launch this new partnership at a Delhi Government school. We are inspired by the teachers and students of the school and by the ambitious vision of Deputy Chief Minister Sisodia for education across Delhi."
Among the existing partnership of British Council with Delhi Government, a prominent one is in the area of Spoken English which is being implemented in collaboration with Macmillan Education, impacting the lives of about 12000 children. Besides, British Council is also working on a project called Changing Minds Changing Moves which incorporates elements of dance and cricket in physical education lessons to support gender equity in the classroom. The project is being piloted in three Delhi Government schools and may soon be launched and expanded to other schools as well.
About British Council:
The British Council is the UK's international organisation for cultural relations and educational opportunities. We create friendly knowledge and understanding between the people of the UK and other countries. We do this by making a positive contribution to the UK and the countries we work with – changing lives by creating opportunities, building connections and engendering trust.
We work with over 100 countries across the world in the fields of arts and culture, English language, education and civil society. Each year we reach over 20 million people face-to-face and more than 500 million people online, via broadcasts and publications. Founded in 1934, we are a UK charity governed by Royal Charter and a UK public body.
About Macmillan Education:
Macmillan Education with over 120 years of experience in publishing is a forerunner in content development in India. Macmillan Education India push the frontiers of learning and discovery by providing the best content and most innovative technology to learners and educators. They do this by placing their needs at the center of all they do and sharing their passion for transforming lives around the world. Macmillan's educational books developed by leading academicians and practicing teachers are research-based, learner-centric, culture and gender sensitive, and are the first choice of over 15,000 schools pan India. Macmillan Education is proud of the important part they play at all stages of the learning journey. They are a place for curious minds who are working to develop the next generation.