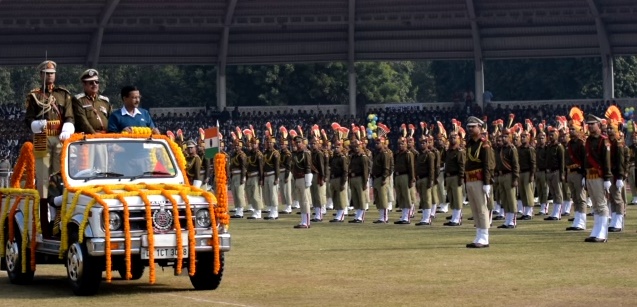 Delhiites established a government who is fulfilling the dream of our freedom fighters, Says Kejriwal at Republic Day Celebrations!
Shaihzad Abid (Photo/Video) By Lokesh Goswami Ten News Delhi :
New Delhi: Delhi government celebrated Republic Day at Chattrasal Stadium in New Delhi.
The mega event was joined by various Aam Aadmi Party ministers including Gopal Rai, Deputy Chief Minister, Manish Sisodia while Arvind Kejriwal was the chief guest of the National event.

The Republic Day event began with Vande-Matram and slogans of "Bharat Mata ki Jai" was buzzing all over the full-occupied stadium followed by Flag-hosting by the Chief Minister.
The Delhi CM took the guard of honour of the security forces including Delhi Police, Delhi Fire Police, school children, NCC corps and other several police bands on an open jeep.
School children of several government school participated in the national event and contributed to cultural programs.

One of the group demonstrated a powerful performance on gender equality, which gots a heavy applaud from the audience.
While another group of school girls wearing traditional Rajasthani costumes performed a group dance on a song, which revive the martyrdom of our freedom fighters including Bhagat Singh, Sukhdev and Rajguru.

Delhi CM Arvind Kejriwal in its Republic Day Speech said," Freedom Fighters gave thier whole life to make India independent from British Colonial rule so that our country can achieve higher place in the world in terms of education and development. Four years earlier, Delhiites established a government who is fulfilling the dream of our freedom fighters by enabling better access to education to every poor."
Speaking about the development, the Chief Minister said, "Delhi is the only state to get 24 hours of electricity, treatments are free in every Delhi government hospital."
The event concluded with a national anthem.